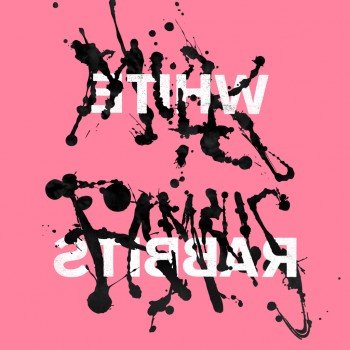 White Rabbits are one of those great bands that continue to reward fans by getting better and better with each new record. Indeed, the Brooklyn-by-way-of-Missouri six-piece's latest record, Milk Famous, is their best yet. It also settles the question as to which is better: to have Spoon's Britt Daniel produce your record or to have Spoon's longtime producer, Mike McCarthy, produce your record. The band's last album, It's Frightening, was produced by Daniel, whereas Milk Famous was produced by McCarthy. Both records featured excellent, thoughtful songwriting and superb arrangements. Still, while It's Frightening was an excellent record featuring great music elevated as a result Daniel's production, I'd make the argument that Milk Famous is the better record because it is consistently solid throughout and manages to simultaneously set White Rabbits apart from their influences with their own distinct sound and sonic signature.
A lot has been made of White Rabbits' association with Spoon and the similarities. And, sure, you could unquestionably mistake portions of Milk Famous for a Spoon record. But the similarities are often confined specifically to the production. Especially those crunchy little guitar riffs, upfront piano melodies and flittering left-right panning ambiant noises that continuously appear throughout the album. Nonetheless, that production is only skin deep, and the songwriting is distinct. Not that it's a damning indictment to be accused of sounding-like Spoon: I'm more than ready to make room in my music library for more bands that have that Spoon-sheen. Nonetheless, I consider it a moot point, as there is also no question that White Rabbits are the stars of Milk Famous, not Daniel – and not McCarthy.
Still, if you are looking for Spoon similarities, opening number "Heavy Metal" is one of the album's most Spoon-like moments with a tightly swirling keyboard loop, a rubbery bass-line groove, skin-tight percussion and sharp-edged, reverb-heavy riffs that aggressively cut through the driving melody. Influences aside, the track is simply a great pop-rock tune with a catchy, upbeat tune.
You'd be trying hard to confuse White Rabbits with Spoon on the tracks that immediately follow the opener: "I'm Not Me" and "Hold It To The Fire" (aside from the brief 10-second Spoon-esque intro on the former track). Instead, I'd argue that both tracks have more in common with the clean, angular, and catchy post-rock melodies of bands like Field Music and Phoenix than with any of their distinctively American influences. And to the band's credit, the album's most-satisfying and original moments are also some of the record's best highlights including "Danny Come Inside" and "Back For More". On "Danny Come Inside" thin vocals are layered down in the mix beneath a tense, shuffling rhythm and a tightly-wound, bass-driven melody. Meanwhile, on "Back For More" a disarming, twinkling piano melody is roughed up by a rumbling bass riff, splashes of feedback and double-tracked vocals.
The album pairs well with Kasey's Meatballs with Mint & Parsley in Tomato Sauce recipe. Like Milk Famous, the recipe is unique and satisfying because of those little touches that make it distinct. Similarly, the album offers a great soundtrack for a dinner highlighting a contemporary take on a familiar, traditional recipe.
Milk Famous is available for pre-order on limited-edition pink and white swirled vinyl from the band's website. I pre-ordered my copy. Once you get yours, head to the Kitchen to read Kasey's recipe for Meatballs with Mint & Parsley in Tomato Sauce.