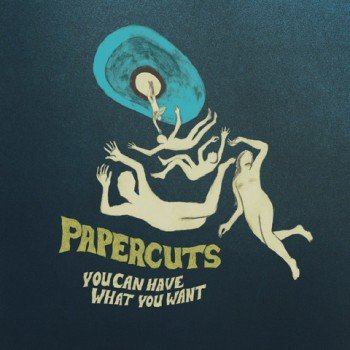 San Francisco's Jason Robert Quever started recording music as a high school student after getting his own four-track. In fact, he's stated in numerous interviews that he naturally gravitated towards recording music, regardless of what else was going on in his life. So it is unsurprising that he's continued to regularly record music – both his own and other musicians' music – ever since that time. And by all accounts, he's proven to be quite good at it. Indeed, his work with other musicians is very well regarded as he's recorded music with Cass McCombs, Beach House, Port O'Brien, and Casiotone For The Painfully Alone at his Pan American American Recording Studio. His recordings have a distinctively warm and vintage flair to them. Once you become familiar with Quever's work his sonic-signature become readily identifiable wherever you hear it. Yet, it is never more distinctly showcased than on the recordings of his own material as Papercuts.
Papercuts' 2009 LP You Can Have What You Want has long been a Turntable Kitchen favorite. Back when it was originally released I listed it as one of the year's top albums. Returning to it three years later I find that it has held up quite well over the past few years. The opening track, "Once We Walked In The Sunlight," hums with vintage organs and a crisp, tight rhythm. It's quietly subtle and upbeat. Indeed, the melodies on You Can Have What You Want remain nearly universally uplifting. The track "Jet Plane" is another highlight featuring a blissful, yet lackadaisical, groove that sounds light enough to float in the air. Meanwhile, the album's most lively moment is on the shimmering, hypnotic "Future Primitive" which propels forward with a rhythm like a slow moving locomotive that rolls forward, but never breaks loose at full speed. It's smoothly restrained and reflective. Even the album's most poignant track, "You Can Have What You Want," sounds as quietly optimistic as it is melancholy.
Subtle, warm and unpretentious, You Can Have What You Want pairs well with Kasey's Black Trumpet, Leek, and Meyer Lemon Pizzettes. Despite relying on bold, high quality ingredients such as Meyer lemon and black trumpet mushrooms, this recipe never feels showy or ostentatious. Next time you see black trumpet mushrooms at the market, do yourself a favor and try this recipe out. You'll be glad you did.
Get You Can Have What You Want from Insound. Get the recipe for Kasey's Black Trumpet, Leek, and Meyer Lemon Pizzettes.