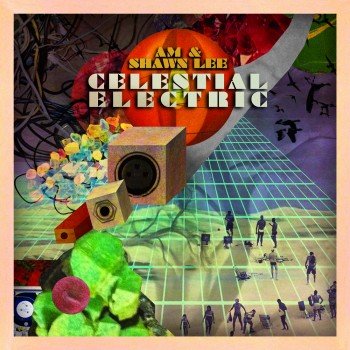 Neither AM nor Shawn Lee are new faces in the music industry. In fact, according to Wikipedia, the Los Angeles-based AM's music has been featured in over 100 television shows and movies. He's previously toured with the likes of French band AIR, Charlotte Gainsbourg, and Brazilian superstar Caetano Veloso. Meanwhile, Shawn Lee was quite busy himself having worked alongside folks such as the Dust Brothers, Jeff Buckley, Money Mark, Princess Superstar and Psapp. The two musicians met when AM reached out to Lee after having heard Lee's music played on a Los Angeles radio station. The two quickly discovered a shared appreciation for the music of the late 60's and early 70's. As we all know, when two artists who respect one another discover a shared love for the same music, collaborations are born. It's the musical equivalent of "the birds and the bees." Their debut album, Celestial Electric, is the result of that collaboration.
Considering their shared influences it's unsurprising that Celestial Electric almost sounds like an album out-of-time. I say "almost" because the songwriting shines with numerous elements that call upon contemporary sources. For example, Celestial Electric can manage to simultaneously call to mind an eclectic roster of artists including Jorge Ben, Gilberto Gil, The Postal Service, The Flaming Lips, Heart, and Kings of Convenience. When calling upon their influences the duo don't rely on only one genre or time period. However you slice it, this is a bright and upbeat album full of catchy hooks, sunshiny melodies, Latin American-inspired grooves, and funky rhythms.
The album opens with the bounce of a Tropicalia-inspired groove and a quietly-shuffling rhythm on "City Boy." The track features a melody and chorus which are both as warm and inviting as a ray of diffused light spread through a window across a living room floor. Meanwhile, "Lonely Life" features a crisp, snare-heavy rhythm, feel good handclaps, and laser-sharp synths to compliment AM's high falsetto. The album's official first single "Dark Into Light" has the album's darkest atmosphere with heavy bass and (relatively) sludgy synths. Still, the track remains uplifting thanks to AM's vocals and Lee's neon-sharp synth flourishes. A little further into the LP they knock out a funky, soulful cover the Ozark Mountain Daredevils' "Jackie Blue" for a sure shot. Demonstrating an intuitive touch for perfectly balanced songwriting, the album remains solid and consistently engaging throughout.
With sweet melodies and sugary hooks, Celestial Electric pairs well with Kasey's Sliced Mango with Sugared Lime Zest recipe. Both the recipe and the album call to mind heavy shade and a cool breeze on a warm, sweltering summer day. By the way, I should warn you: that sugared lime zest might as well be renamed Fruit Loops-flavored crack it's so tasty and addictive.
Celestial Electric is available in a number of different packages through the duo's Bandcamp site.  Then I suggest checking out Kasey's Sliced Mango with Sugared Lime Zest recipe.