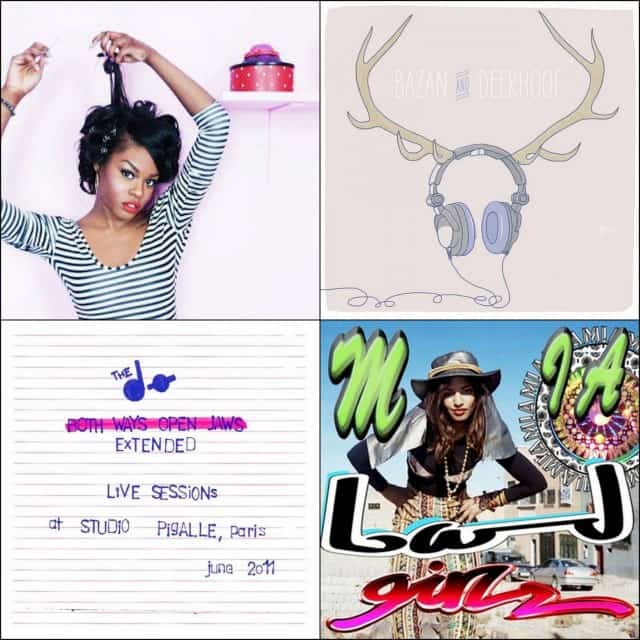 New music from Azealia Banks, Deerhoof (feat. David Bazan), The Dø and M.I.A.!  That is a lot of great new music for one Single Serving. Thankfully, I think you can take it.  What you waiting for: give 'em a play.
Azealia Banks – Bambi
Uhm, so the new Azealia Bank's track is mind-melting (and, uhm, very N.S.F.W.)! As it stands now, Banks only offers up only a brief, but fiery, rap in the center of the track surrounded by giggling and small talk-like narration, but Pitchfork reports that she plans to extend the verse on the track. I don't know about you, but I need that extended verse. Seriously, I can't get enough Azealia Banks right now.

Deerhoof (feat. David Bazan) – No One Asked Bazan To Dance
I'd be lying if I said that this is what I expected a David Bazan and Deerhoof collaboration to sound like, but I'll be damned if it doesn't sound great. It is on limited-edition (2000 copies), clear blue vinyl and it is available from Polyvinyl.  What isn't surprising is that you get stunning guitar picking and Bazan's vocals with some interesting, unorthodox little flourishes.

The Dø – Tightrope (Janelle Monaé Cover)
Ok, I'm new to French/Finnish-duo The Dø, but based on the way they nail this cover, I need to hear their original material stat. Their take on the track is slowly simmering with a creeping, sensual groove. I'll say it, I even prefer their version to the original (sorry Janelle fans). A big thanks to the always excellent Listen Before You Buy (which is where I discovered this).

M.I.A. – Bad Girls
You might remember this song from when M.I.A. released a shorter version of the track on the Vicki Leekx mixtape about a year ago. The full version premiered days ago and it reminds me of just how much I love M.I.A.'s music when she is on top of her game.  Let's hope we'll be hearing a whole new album of music this compelling from her.