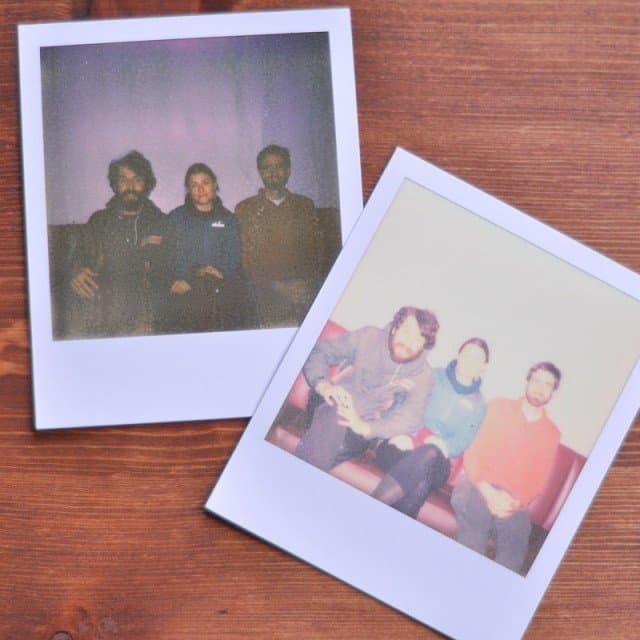 I caught up with Micah, Andrea and Trevor from Ann Arbor, Michigan's Breathe Owl Breathe before their set at San Francisco's Bottom of the Hill. Their live show is upbeat and whimsical. In fact, I'd venture as far as to say I'd never seen a band appear to have so much fun on stage (The Decemberists probably come in a close 2nd though). Whether Micah was performing barrel rolls, play acting as if he were swimming, or creating giraffe hand puppets to accompany a song's lyrics; it was often enough to elicit uncontrollable giggling and knowing, amused smiles from Andrea and Trevor. Thankfully, although the trio know how to have a good time, they also never missed a note – even when Andrea unleashed operatic vocals in the midst of "Parrots In The Tropical Trees." We talked about – what else – food and music.  Read on.
Breathe Owl Breathe – The Listeners
Breathe Owl Breathe – Own Stunts
1. What is the tastiest treat you've had on the last tour/back home?
Trevor: We like to get Indian food, it is our weakness. It makes us feel like we are at home. That's because back home in Ann Arbor, Michigan there is a really good Indian restaurant called Raja Rani. It is like the best Indian buffet and it is close to home. So it isn't really on tour. Andrea would probably have a different answer though.
Andrea: I love Indian food a lot. On the last tour we did about two and a half weeks only in Michigan. So we toured the Upper Peninsula and stayed with Micah's Aunt and Uncle who live way in the woods. They are amazing. They have these amazing permaculture gardens that put up a huge amount of the food that they eat year round. His Uncle Ray makes this amazing hot sauce called Ray's Polish Fire that we're addicted to and put on almost everything. Ray made this amazing chili. Usually I don't like chili, but it has wild turkey from up there and all of this kale, it was kale heavy, and I'm obsessed with kale. It also had tomatoes that they had grown and beans. That was my favorite treat from our last tour. It was a really special treat.
2. Is there one album that has dominated the stereo in the tour van?
Micah:  Today we listened to different soundtracks.  It was almost like a game where we played Last of the Mohicans, Back to the Future, Indiana Jones. There was some Bone Thugs & Harmony – Tha Crossroads, we did a little M.C. Hammer – Have You Seen Her.
Trevor: Not really an album, but a mix and mash.
3. What is your favorite music discovery of 2012?
Micah: I think I'm always rediscovering Arthur Russell's recordings. I'm just amazed of everywhere he has been in his songs.
Trevor: Something that sticks out is this Philip Glass three tape set that Micah got. The packaging is the size of a vinyl record.  You open it and there are three tapes in it.
Micah: It was minimal with the concept but not with the packaging. You can play these cassettes at the same time or individually.
Andrea: It is hard to pick just one. I'll be specific in a way you didn't ask for.  The first discovery of a band from a live show, that I didn't know, that really blew me away was this band called Future Islands. I had definitely never heard of.  They really blew me away live.
4. What is one food or beverage you can't live without (Trevor stepped away to help with sound setup)
Andrea: Number one would be sweet potatoes, and number two dinosaur kale, and number three would have to be fair trade, organic dark chocolate.
Micah:  There is this sandwich that I really enjoy making.  You toast the bread and you put peanut butter and bread and butter pickles and a little bit of hot sauce and you serve it with a side of rice.  It's just a really good gourmet.  There will become a time in your life when you'll be like: "I'm going to try the peanut butter and pickles sandwich, and you are either ready for it or you are not."
Andrea: If I were to guess Trevor's top 3 they would be: Cookies, which can encompass any all very sweet baked goods; beans – like black beans; and coffee.  Oh, and one more food that I have to add is coconut butter. It is not oil, but just like cashew butter or almond butter.  Just the coconut flesh but it is totally creamy.  I'll eat it by the spoonful.
5. Any resolutions for 2012?
Trevor: Putting things out there that are on my mind, when they happen, rather than later, including inspirations. It pretty much applies to anything in the world.
Andrea: My resolution is to be more active.  To go for more hikes and runs and walks and swims.
TK: I bet that is tough when you are on the road.
Andrea: It is.  You have to be really determined.  Micah is incredible at it.  He'll wake up before everyone else on the tour and just run for miles and come back, and everyone else is just getting up.
TK: That is pretty determined.  Especially because you'll be in new cities and not really know where you might be running.
Micah: Yeah, but that moment, the first thing of the day, is so precious because you are passing through areas so quickly, and you are able to see that little moment in time. My short term goal is that I've never been good at documenting things, or logging things. Sometimes when we record music it just gets lost on cassette tapes, and there will be something that you completely forget about.  On this tour I'm trying to log what I do everyday, active-wise and collaborating-wise.