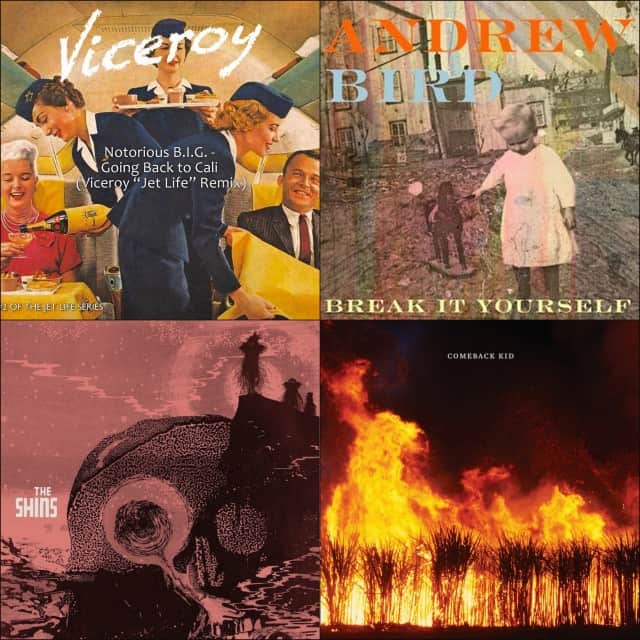 I'll probably be experimenting with the formatting of the Single Servings posts for the next few weeks to find something I like. However, instead of featuring one new track per post, I'm planning on featuring a collection of new singles in each Single Serving post. I really really feel compelled to try to keep tings neat and orderly, so I may try to lump all the Soundcloud-hosted tracks into one Single Serving post, all of the Bandcamp tracks into the following Single Serving post, and then the free downloadable tracks into another. Anyways, if you have any feedback I encourage you to share.
This week we have four new tracks to share including a really sunny remix of Notorious B.I.G. by Viceroy and new singles by Andrew Bird, The Shins and Sleigh Bells.  Enjoy!
Notorious B.I.G. – Going Back To Cali (Viceroy "Jet Life" Remix)
I've come to accept that I'm not really a fan of remixes. That's not to say I don't like any remixes (there are plenty that I do like), but I'm very picky. This remix by "Summertime, All The Time" producer Viceroy hit that happy spot for me where a remix offers something new and upbeat without crossing the line from fun to cheesy.
Andrew Bird – Eyeoneye
Andrew Bird fans will be excited to hear that the man's latest album, Break It Yourself, is scheduled for a March 6th release.  If you're a huge Andrew Bird fan you'll probably want to pick up one of the linen-wrapped limited edition box sets of the album before they are gone.  Limited to 1000 copies that include the record on vinyl and CD, a DVD of some early live performances of Break It Yourself material, a poster, a photo, and a stationary set.
The Shins – Simple Song
In case you missed it when it was released a few weeks ago, The Shins have released the first single off of their upcoming album. It's titled "Simple Song" and it's a welcome reminder of why we love The Shins so damn much.
Sleigh Bells – Comeback Kid
It's been a hot minute since we heard from Sleigh Bells, but they are back with the single "Comeback Kid." As you'd expect from Sleigh Bells, the track is bombastic, loud and strangely melodic.