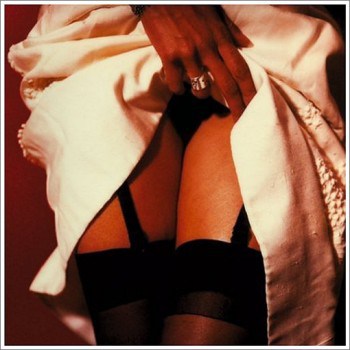 Twilight Singers began in 1997 as a side-project for Afghan Whigs frontman Greg Dulli. When the Whigs disbanded in 2001, Twilight Singers became the primary vehicle for releasing Dulli's new material. Released in 2004, She Loves You was Dulli's third release under the Twilight Singers moniker, collecting eleven sultry, slightly debaucherous covers. Dulli is known for both his fondness for reinventing other popular songs, and for his ability make even a simple love song sound like a naughty come on. Indeed, Dulli sounds like the type of guy who just might be pretty good at convincing sweet, pretty girls to do very bad things. This "talent" is apparent in his renditions of the songs selected for She Loves You. They're lusty, smoky and simmering. The choices themselves are eclectic, including Bjork's "Hyperballad," Mary J. Blige's "Real Love," and the traditional folk song "Black Is The Color of My True Love's Hair."
She Loves You opens with Dulli's take on the Hope Sandoval & The Warm Inventions track "Feeling of Gaze." The original is gentle, calming and ethereal with Sandoval's vocals floating lightly atop a bed of orchestral strings. Dulli's version pulls the track down to earth, stripping it down to an acoustic guitar melody and simple vocals. This version, which is also unsurprisingly more masculine, sounds at times loving, and at other times almost taunting. It's followed by the Twilight Singers take on the Martina Topley-Bird (Tricky's main collaborator on Maxinquaye) track "Too Tough To Die." As you might guess from the title, the original was anything but gentle, but where the original was sparse, rubbery and menacing, Twilight Singers fill the empty spaces with snarling electric guitar turning it into a smoking rocker.
Another notable track is their recording of "Hyperballad" which probably shouldn't work since Bjork is a difficult musician to emulate, and yet they pull it off with little effort. Dulli makes up for Bjork's distinct vocals with his own purposeful drawl. By shifting the emphasis of specific lyrics, Dulli twists the narrative perspective of the song creating an almost unsettlingly sensual vibe when he murmurs "I imagine what my body would sound like slamming against those rocks."
Although it is an altogether strong collection, one person favorite is Dulli & Company's take on the traditional Appalachian folk song (at one point made famous by Nina Simone) "Black Is The Color of My True Love's Hair." It opens with a clockwork like rhythm and Dulli's smooth croon, with the melody gradually unfolding, gradually building, so that when he sings "one day we'll be as one" it sounds both passionate and obsessive.
Perhaps my least favorite cut on the album is their take on "Strange Fruit." While Billie Holiday's version of the song was melancholy and plaintive, the Twilight Singers' version is almost uncomfortably sinister.
The album makes a great pairing for Kasey's Spaghetti with Lemony Anchovy Sauce. Anchovies have long been considered aphrodisiacs, a fact whch balances beautifully off of the sexy groove of the album. The pasta also features strong flavors and makes a bold impression – something the Twilight Singers can undoubtedly relate to.
Twilight Singers – Black Is The Color Of My True Love's Hair
Head back to the Kitchen to read Kasey's recipe for Spaghetti with Lemony Anchovy Sauce. Then head to Insound where you can buy the album in formats other than vinyl (which is long sold out and very hard to find).