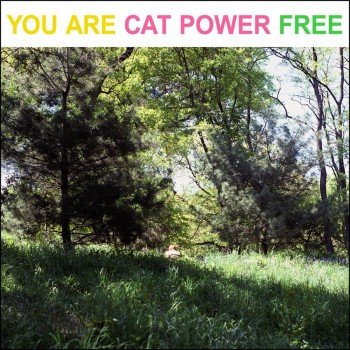 You Are Free blew my mind the first time I heard it. That was nearly nine years ago, and it still retains that power when I listen to it today. It's startlingly direct in its minimalism. With strongly affecting melodies Chan Marshall finds beauty and greatness in songs whose foundations are often built with little more than her soothingly emotive, soulful vocals supported with either crisp piano, raw acoustic guitar or cutting electric guitar. And in my mind, it is a nearly perfect album. It's strongly thematically focused, finding Marshall struggling with the effects that being a celebrity can cause while trying to find freedom from pain, from her past, from old relationships, etc. Opening song "I Don't Blame You" (likely an emphathetic tribute to Kurt Cobain) is a devastatingly lovely cut that finds power through brightly, ringing piano and Marshall's cleanly enunciated lyrics: ("They said you were the best / but then they were only kids / Then you would recall the deadly houses you grew up in / Just because they knew your name / doesn't mean they know from where you came / What a sad trick that you thought you had to play / But I don't blame you"). Marshall refused to confirm or deny whether the song was in fact about Cobain, but nonetheless admitted to feeling as if she could understand the frustration and bewilderment that may have led him to commit suicide.
On "Free" she uses the raw screech of her fingers sliding along an acoustic guitar to create the backbone for a raw, roughly-hewn tune to flesh out her anthem against falling in love with musicians as celebrities / role models: "Don't be in love with the autograph / Just be in love when you love that song on and on." Of course, in the time before You Are Free was released, Cat Power had become known for unpredictable live performances and moody behavior, so it's almost certainly her reaction to her own relative fame. Rallying against celebrity was likely just another way for her to find her own freedom. Of course her own fame certainly never reached Cobain-like levels, but it is a testament to Cat Power's own charisma as an artist that her supporting musicians (Dave Grohl plays drums on three tracks, Eddie Vedder provides backing vocals on two tracks, and Warren Ellis contributes violin to two tracks) are rarely even mentioned in reviews of the albums.  Indeed, it was a new discovery for me when I learned of their participation many years after having obsessed over the album. Honestly, maybe I was just willfully ignorant, but I had no idea that it was Vedder performing the duet with Cat Power on "Evolution."
Throughout the album Marshall examines the pursuit of freedom from many perspectives. For example, the stunning, simple "Baby Doll" is a sincere ballad about battling against substance abuse (Chan has revealed in interviews that she has battled with alcoholism): "Don't you want to be clean? / Honey, the shape you're in / Is worth every dime you spent . . . Don't you want to be free?"  The song "He War" would appear to be a ballad about the end of a bad relationship although it is unclear which perspective Marshall has adopted in the song (as the one moving on or as the one left behind).
For it's thoughtful minimalism, crisp but loose instrumentation, and spectacular delivery, You Are Free is a great musical pairing for the Crisp Lavash with Zataar that Kasey is featuring in the Kitchen. It's a simple recipe, but addicting and delicious. It's brittle and clean. Exotic and yet somehow familiar. If you happen to have some extra zataar on hand (as subscribers to the Pairings Box likely do), I highly recommend giving this recipe a try, and of course, giving You Are Free a fresh new spin.
It's a hop, skip and a jump (or a click) to the Kitchen where you can read how to prepare some addictive Crisp Lavash with Zatar. Or you can wander over to Insound, browse for a minute, and then buy You Are Free on vinyl if you don't already have it.