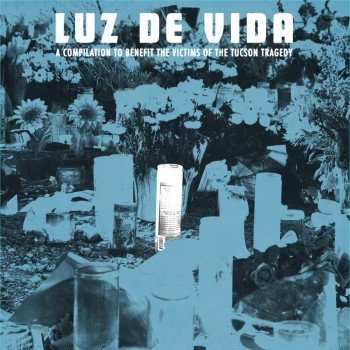 Fort Lowell Records are continuously surprising us with awesome new releases, so it comes as no surprise that they were tapped by Music Against Violence to prepare the digital and vinyl release of Luz de Vida, a compilation to benefit the victims of the January 8th Tuscon tragedy. Indeed, the record and digital download easily exceed the high standards the label has demonstrated with its other releases. The vinyl record is limited to 1,500 copies on brilliant sun-yellow vinyl and is oozing with highlights. None of the artists phoned in their contributions. "People Beat" by Dead Western Plains has an syrupy, irresistible melody; Kiss & The Tells "Tell Me Now" is an old-school soul tune; Giant Sand's "Recovery Mission (Radio Edit)" is smooth and smokey; the live take of Chango Malo performing San Cooke's "A Change Is Going To Come" is fantastic; Tracy Shedd's "Encourage Me" is nothing short of beautiful; and Calexico contributes the rustic and swooning "Absent Afternoon."  And that is just the vinyl release. The digital release emphasizes what a steal this compilation highlighting a total of 37 tracks including additions by Spoon, John Vanderslice, Neko Case, Jimmy Eat World, DeVotchKa, and another Calexico track.  And yeah, you get all of this awesome music and the proceeds all go to a good cause.
Dead Western Plains – People Beat
Giants Sands – Recovery Mission (Radio Edit)
It is out October 18th.  Buy it from Fort Lowell's website!