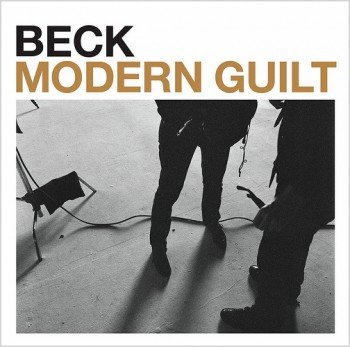 Today Kasey is featuring Roasted Romano Beans with Hazelnuts and Smoked Paprika in the Kitchen. Romano beans, if you haven't tried them before, are essentially a meatier alternative to your standard green beans that are popular in Italian cooking and, as Kasey has informed me, are a seasonally summer ingredient that, due to the Indian Summer we've been experiencing recently, have remained abundant at local farmers markets. And that seems fitting. With the lemon zest, romano beans and olive oil blending with hazelnuts and smoked paprika, this tastes like a summer recipe in disguise as a fall recipe. It's incognito. Sharing many of those characteristics, Beck's Modern Guilt is a great pairing for this recipe. Modern Guilt is an album whose true form Beck, with the help of producer Danger Mouse, had tried to hide. Lyrically it is melancholy, organic and fall themed, but the production is upbeat, contemporary and summery.
It's a trick as old as pop music, selling sad sentiments through melodically upbeat tunes, but it is one that never gets old. And it is one that comes naturally to this collaboration. Sure some of Beck's most popular early albums, Odelay and Midnight Vultures for example, were filled with neon lights and the vibe of gritty urban parties, but increasingly those feel like the exception to his muse instead of the rule. After all, he made his name with the single "Loser" and his more recent output, Sea Change and The Information, are lyrically filled with paranoia, fear and regret. Nonetheless, with the exception of Sea Change, Beck's always worked hard to obscure the emotional weight of his music with lively, eccentric music. Meanwhile, Danger Mouse has proven himself as potentially unparalleled at crafting sonically intricate collages that are  almost effortlessly balanced between darkly lit pop-noir and free-wheeling summer jam. Their most obvious example of of this fusion is on the album's most popular single "Gamma Ray" which certainly has the signature of a feel good jam but is nonetheless lyrically menacing:  "Trying to hold, hold out for now / but with these ice caps melting down."  The track "Modern Guilt" follows the same blueprint by being sonically energetic, but lyrically downbeat: "I don't know what I've done, but I feel ashamed." It is only the Beck's closing shot, "Volcano", that maintains a poetic and musical consistency and directness with it's skittering paranoia and pensive rhythm as he sings: "I've been drinking these tears so long / All I've got left / Is the taste of salt in my mouth."
Beck – Gamma Ray
Beck – Orphans (Acoustic)
Beck – Profanity Prayers (Acoustic)
Head to the Kitchen to read Kasey's recipe for Roasted Romano Beans with Smoked Paprika and Hazelnuts.  Modern Guilt is no longer in print on vinyl, but you can buy a CD from Insound.