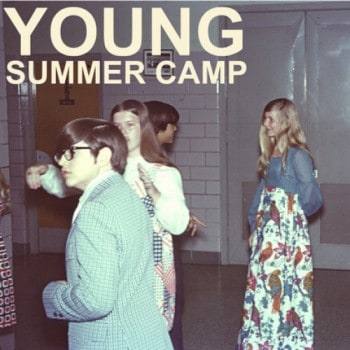 There is probably no food stuff I associate with my father more than oatmeal raisin cookies. He just generally loves foods with raisins in them, but more importantly, the only recipe I've ever seen my father prepare from scratch is for oatmeal raisin cookies. He's prepared them almost yearly since I was a small child as a holiday treat. We'd eat them warm and dunk them in a tall glass of cold milk. Pieces would break off and rest at the bottom of the glass – a little treat for the end when you drank the cookie-infused milk. It was my grandmother's recipe first and was passed down to him. So it is especially delicious to think that while those oatmeal raising cookies remind me of my childhood, they probably also remind him of his. Kasey's Oatmeal Raisin Cookie recipe is somewhat different from the recipe prepared by my father/grandmother, but they definitely still call to mind those same happy, childhood associations and taste great dunked in milk.
Summer Camp's 2010 Young EP is a great musical accompaniment for both of those oatmeal cookie recipes.  As the title implies, the album is steeped in childhood nostalgia and is musically upbeat. Album opener "Round The Moon" is painted with a warbled new-wave ambiance and trimmed with neon dance-floor keys. It's also a slight head-fake because it is the album's only track that features Jeremy Warmsley's lead vocals. The EP's remaining five cuts are helmed by Elizabeth Sankey's smooth vocals. The languid and shadowy cut "Veronica Sawyer" tells the tale of a disaffected teen feeling estranged from her awkward and immature peers. With a rubbery bass line and chugging rhythm"Ghost Train" is a clear album highlight with its catchy and upbeat melody.  All and all, the album is nearly guaranteed to have you bathing in childhood memories and good vibes. Their new album is out any really, really soon.  The track "I Want You" below is the first single from that album.
Summer Camp – Ghost Train
Summer Camp – Veronica Sawyer
Summer Camp – I Want You
Buy the EP from Moshi Moshi.  Then head to the Kitchen to read the recipe for Kasey's Oatmeal Raisin Cookie.