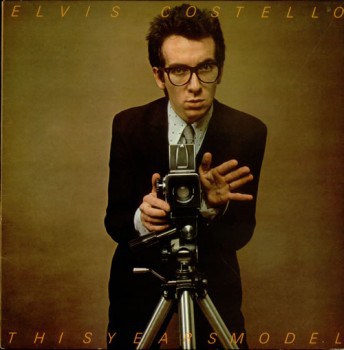 You'd be forgiven for thinking that roasting anchovies with broccoli might taste weird, but you'd be surprised how good it tastes. Even more surprising is how unassuming it actually it is. The Roasted Broccoli with Anchovy Sauce recipe Kasey is featuring is nonetheless just that, unassuming despite it's slightly unusual sounding flavor combination, and it makes a great side dish to accompany just about any recipe. We've had it with a number of different meals, and it always goes well with anything we serve it with. In fact, it actually can serve the purpose of dressing up a less impressive main dish. I'd describe it as Wednesday night home cooked gourmet. So what album do you want to pair with your Wednesday night meal? It is meant as no insult when I say that Elvis Costello's This Year's Model is that slightly weird, but completely dependable and unassuming, Wednesday night Musical Pairing. Like the recipe, it's a great any-night album to liven any meal.
To be honest, Elvis Costello was one of those musicians whose catalogs I had left uncharted for far longer than I'd like to admit. Like most everyone else in the world, I was familiar with "Allison" and "Watching The Detectives," but I couldn't tell you if I had ever heard "No Action" or "I Want You" before I turned 25 years old. I can't say why, but for me at least, he didn't have the same aura of cool that artists like David Bowie or The Kinks held. But it's funny how quickly those impressions changed after I was exposed to his music. Now, I consider My Aim Is True, This Year's Model, and Blood and Chocolate as some of the three greatest records released between the mid 70's and mid 80's. Of the three, This Year's Model features the man at his loosest and most kinetic. It's the Amnesiac to My Aim Is True's Kid A.  In other words, it consists of tracks that didn't make the prior album, but which proved to be strong enough to support a separate release. In fact, having parted ways with his original backing band (Clover, which later went on to be "The News" from Huey Lewis & The News), Costello here teamed up with the Attractions who helped contribute a lively sense of urgency to the material. The album bursts open with a blast of raw electricity in the inaptly named "No Action." The following track "This Year's Girl" is more controlled in comparison, but it still feels loose and tumbling while highlighting Costello's dryly cynical lyricism. "This Year's Beat" has a satisfyingly clean, rubbery, and slinking groove that will stay with you for days at a time. Meanwhile, they reclaim the fiery energy they opened the album with on the free-wheeling and blistering "You Belong To Me." Still my favorite track for the collection is "(I Don't Want To Go To) Chelsea." Bottom line though is that its a classic. If you've been holding out, go check it out.
Elvis Costello – (I Don't Want To Go To) Chelsea
Head to the Kitchen to read Kasey's recipe for Roasted Broccoli with Anchovy Sauce.  Buy This Year's Model from Insound.