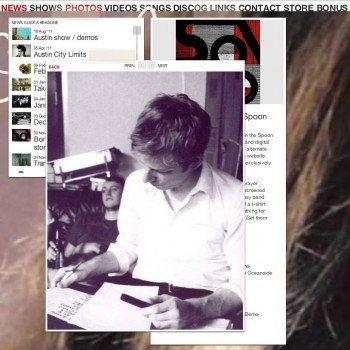 It's been a little while since we've heard from Spoon, but that doesn't mean we've forgotten about them. The other day I decided to visit their website and noticed that they had posted a demo for download.  Not ones to be afraid to share their creative process with fans, posting monthly demos to the Spoon website had been an long running tradition for the band which stopped last February (potentially because they had run out of demos to share). Nonetheless, they are back to it after Britt unearthed some old demo tapes in the process of a recent move. They've promised to share more in the coming months, but the first one they've released is an early demo of the track "Utilitarian" from their debut album Series of Sneaks.  It's rough and unmixed (it is a demo after all), but almost all of the elements were already in place. And in case you missed them I've re-posted a few demos from the Kung Fu Bakery Sessions that they had previously shared.
Spoon – Utilitarian (demo)
Spoon – Black Like Me demo + real drums
Spoon – Jap Cig Case Oceanside demo
Spoon – Cherry Bomb from scratch demo
Watch the Bonus section of their website for future updates.