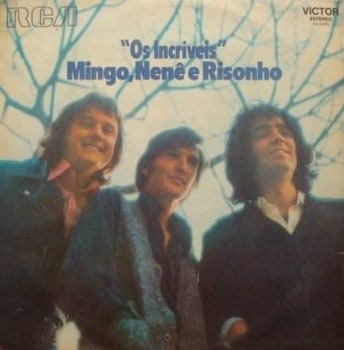 As you've no doubt noticed, I've been on a Brazilian and French music bender recently, tearing through 70's Brazilian rock and samba and 50's and 60's French pop in equal measures. One of the things I love about this music is how it can sound simultaneously familiar and foreign at the same time. The familiarity is a result of the heavy influence of British and American music, but it's still foreign because these musicians didn't just pick up a guitar and imitate their English-speaking counterparts. Instead they owned this music by melding it with their own musical traditions and culture. Perhaps unsurprisingly, the only real duds on many of these albums are the frequently less original English-language tracks. But even those tracks say a lot about the scene the tracks were born into. And for me, that sense of discovering a long gone, foreign music scene, the good and the bad, is part of the fun. It provides a whiff of the same excitement that comes with traveling.
This 1973 album by members of Brazil's Os Incríveis is a great example of that experience. Os Incríveis were a popular band heaped into the Jovem Guarda movement that was popular in Brazil during the 60's and 70's. The original lineup of Os Incríveis, which was popular in Brazil throughout the 1960s, had disbanded by this time, but members of the group continued to release albums like this one borrowing on the bands name. The Jovem Guarda movement itself was a direct reaction to the influence of American rock n roll of the 1950's and the British Invasion of the 1960's. And you'd never question it. When you hear this album there is no question that Mingo, Nenê and Risonho were heavily influenced by The Beatles, The Kinks and The Beach Boys. But despite those apparent influences, they distinguish themselves thanks to whimsical melodies, little tropicalia flourishes, and fluttery Latin-American guitar riffs. The stink bombs (and there are a few) are the handful of tracks that are sung in English (primarily "Carry On" and "Everything Is Going To Be Alright").  Alternatively, the best tracks here are cuts like opener "Estrada do Sol", the sunny and upbeat "Uma Rosa Pra Dita" and the funk-tinted "Estou A Perigo" – none of which would ever be confused for a cut by The Beatles, The Rolling Stones or The Kinks. And because these collections are quirky, summery and upbeat they make a great pairing for Kasey's Peach and Amaretto Jam.
Os Incríveis – Uma Rosa Pra Dita
Os Incríveis – Estou A Perigo
I presume this album can be found on the Internet.  It would also make a great gift to give to your favorite food and music bloggers. Before you rush out to find it, I'd recommend you stop by the Kitchen to drool over the pictures of Kasey's Peach and Amaretto Jam.