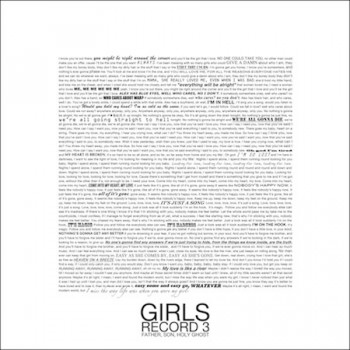 When we heard from the dudes from San Francisco's Girls in November of last year, they'd just released their Broken Dreams Club EP which demonstrated the band maturing as songwriters and "experimenting" with more leafy, spiraling melodies, crisper production and autumnal ambiance. On September 13th they are back and set to release their third record (and 2nd full length) titled Father, Son, Holy Ghost, and we once again find the band's core duo, Christopher Owens and Chet "JR" White, further expounding on the sprawling psychedelic melodies, warmly vintage rhythms, lush arrangements, and harmony-laden, garden fresh ambiance that permeated the Broken Dreams Club EP. The songwriting is thoughtful with tracks that slowly build in tension before reaching grand, crashing crescendo. It pairs well with the Lavash Flatbread that Kasey is featuring, which is garden fresh, crisp and autumnal.
Father, Son, Holy Ghost is another triumph for Owens and White. Thanks to excellent production that makes the album's music almost tactile, as well as affecting instrumentation and emotive vocals, it's an album to get lost inside. It opens with the catchy and upbeat "Honey Bunny" – a tune built around wet surf rock guitar riffs, tumbling percussion and smooth harmonies. And they effortlessly collect genres throughout the album's course including country-western licks on the plaintive "How Can I Say I Love You" and epic-sounding rock drones on the exquisite (and misleadingly titled) "Vomit". In the meantime, the track "Magic" is galloping, bright and lively. Here in San Francisco we've been enjoying an Indian Summer-like warm period, but there is no question that Fall is just around the corner. If you're looking for the perfect record to wrap up with during the cooler nights to come, I highly recommend you give this a few spins.
Girls – Honey Bunny

Head to the Kitchen to read Kasey's recipe for Lavash Flatbread and then to Insound to purchase a copy of Girls' Father, Son, Holy Ghost on 2xLP.