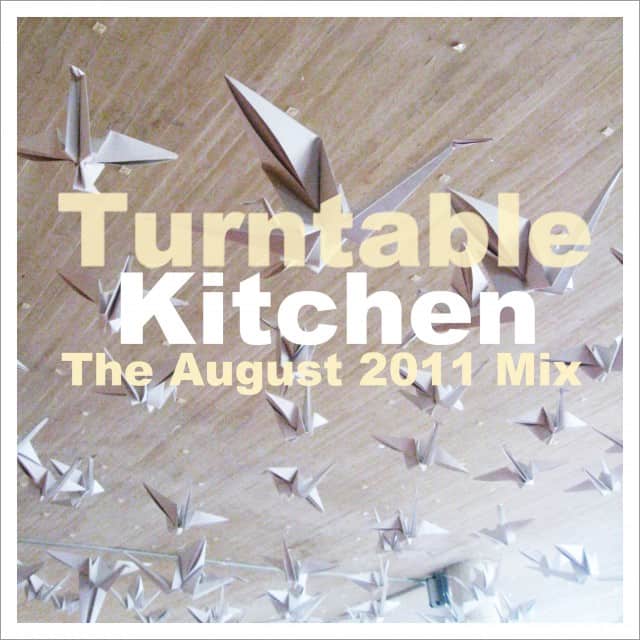 It's something I can't explain, but some of TK's mixes come together easily, while others are labors of love.  The August mix definitely falls into the latter category.  I struggled with everything from committing to an opening track, track order and song selection.  Once I had a little over half a mix, I felt like it was still missing something.  Ultimately, I ended up hitting up some of my colleagues' sites to find tracks to fill in the gabs.  I found the Bare Wires and Mikal Cronin tracks while browsing the consistently excellent See The Leaves; "HURTLOVE" and "Shells of Silver" were posted on the always spot-on Listen Before You Buy; Gorilla vs. Bear featured the Wildlife remix; and the Benoit & Sergio track was courtesy of elegantly stylish ISO50.  Despite the difficulties of curating this one, I think it turned out pretty great – so I hope you enjoy it too.
Turntable Kitchen :: The August 2011 Mix (.zip file)
01. Mikal Cronin – Apathy
02. Bare Wires – Cheap Perfume
03. Motel Beds – Western Son
04. The Fantasies – Earth Life
05. Colorfeels – Pretty Walk
06. Soft Metals – Psychic Driving
07. Benoit & Sergio – Boy Trouble (Radio Edit)
08. Jhameel – Shut Up
09. The Japanese Popstars feat. James Vincent McMorrow – Shells of Silver (White Sea Remix)
10. SBTRKT – Wildfire (Drumma Boy Remix feat. Shabazz Palaces)
11. Evenings – Lo-Vélo
12. Other Lives – For 12
13. Gardens & Villa – Black Hills
14. Princeton – Clamoring For Your Heart
15. Jay-Z & Kanye West – Otis
16. Domo Genesis – Glory (redux)
17. Thundercat – For Love I Come
18. Air France – It Feels Good To Be Around You
19. Doomstarks – Victory Laps
20. Mathieu Santos – I Can Hear The Trains Coming
I took the picture above in Bogota at the Gabriel García Márquez Community Center.  If you haven't already, go read Kasey's brief Colombia travel guide.