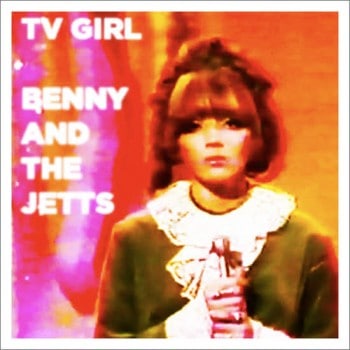 You can't keep a good band down.  Case in point: San Diego's TV Girl had a run in with the major labels not so long ago.  Their self-titled debut EP featured a Todd Rundgren sample on the single "If You Want It."  Trying to do the right thing the band reached out to the Warner Music Group, who owns the rights to the sample, hoping to get it cleared.  Warner agreed, but only on the condition that TV Girl would agree to pay a $5,000 clearance fee and 100% of any proceeds earned from the track. When TV Girl, who had shared the song for free and weren't earning any money off of it, unsurprisingly declined Warner's ransom, Warner promised to snuff out the track by sending takedown notices to the file hosts of every blog that had posted the track (including this one).  Basically, Warner said "We've got all the cards – play by our rules or walk away from the table."  I can imagine that as a new band, having your biggest hit to date fall victim to extortion must be discouraging.
Nonetheless, TV Girl wasn't about to let that stop them. They are back with brand-spanking new EP titled Benny and The Jets.  The new EP is packed full of bass-filthy pop jams that'll get your head bobbing and your toes tapping.  The tracks were recorded around the same time as their prior EP, and unsurprisingly have a similar vibe. The Rocket Man referencing title track features a chugging, beefy rhythm section, a glimmering piano melody and more of the slightly-woozy, affectless vocals that helped define their music last time around.  "Baby You Were There" has more of that dirty, busted-speaker bass mingled with a technicolor, tropical vibe built around it's 50's-hula-esque sample.  To get to the point: the collection is solid.  Oh yeah, and it is available for FREE.  Download the Benny And The Jets EP from TV Girl's Facebook.
P.S. The labels have been demonstrating an inability to play nice with artists recently by trying to shut down new artists like TV Girl and suing the old ones (like Bruce Springsteen, Bob Dylan & The Eagles).  It almost looks like litigation and other tough-guy tactics have become a major revenue stream for the labels who are struggling to survive.  For me, this raises a host of interesting issues.  Isn't this bad for artists and music-fans alike?  What role should the major labels continue to play in the music industry going forward?