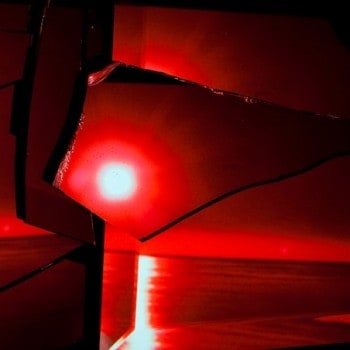 TV on the Radio's fourth long player, Nine Types of Light, initially struck me as a little disappointing.  Not because I thought it wasn't "good" — far from it — but somehow it seemed to lack "something" that I had come to expect from a TV on the Radio album. Yet it was hard to pin down what was missing. There are funky rhythms, muscular melodies, off-beat structures, daring falsettos (at least considering the presumed range of their lead-vocalist Tunde Adebimpe), thoughtful productions, horns… and just about everything else you'd want – except maybe scant evidence of the sweltering adrenaline that infused tracks like "Dancing Choose" or "Wolf Like Me."  Instead, with the exception of the bookends "Second Song" and "Caffeinated Consciousness," Nine Types of Light felt like a relatively mellow affair.  There's even less of the thoughtful-weirdness they'd offered on some of their earlier releases. I guess I expected more "meat" from a TV on the Radio album.
Or at least I thought that was the problem. But now that I've spent a little more time with the album, I've come to realize that my initial reactions were wrong. Listening to the album again tonight, I'm noting that the vibe is more atmospheric than visceral, but there is definitely plenty of "meat" on these bones. For example, there is the bass-y, deep tones of "New Cannonball Run" and the Casio-colored keys and chest-thumping beat of the warbled, frantically paced "No Future Shock."  The simmering "Will Do" is part trip-hop inspired groove and part strange-ballad.  And if I was looking for high-energy – "Repetition" is practically locomotive. Throughout the album, their production is still top of the game with textures that are alternatingly slick, rough, shining, grimy, pulsating and trembling.  And the mood isn't particularly relaxed — it's as defiant, lovesick, paranoid and off-kilter as anything else they've ever done… and maybe just as great.  So now I think that maybe the real problem – the "something" that was missing – had more to do with me as the listener than it was about the album.  Some albums just require being in the right mindset the first time you digest them. And, as a result, I think it is worthwhile to revisit albums from time to time – just to see if, as a listener, I'm ready to contribute that "something" the album was missing the first time I listened to it.
The clean, atmospheric — and meaty — qualities of Nine Types of Light make it a perfect pairing for Kasey's Brothy Beef Short Ribs recipe. If you are looking for a satisfying, belly-warming meal – you'll find none greater than this one.
Head to the Kitchen to read Kasey's recipe for Brothy Beef Short Ribs.  Then head to Insound to buy Nine Types of Light on vinyl.