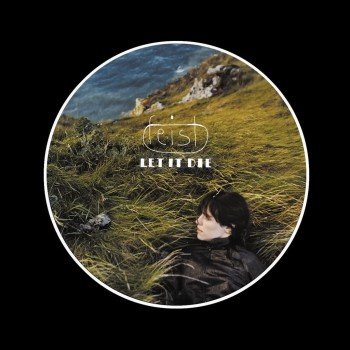 Jazz, Orchestral Pop, Disco, Indie Folk, Blues and Chanson. All great genres to be certain, but who would mix them together?  On paper that sounds like the recipe for a truly terrible album. And yet Canadian-chanteuse Feist blends all of those elements together in one big mixing bowl and afterwards serves up one truly yummy treat on her 2004 album Let It Die. Of course, it isn't that she uses elements of each of those genres on each and every track (which I think would have been a disaster), but that throughout the course of the album she regularly skips carefree from one to the next.  Similarly, when I see today's recipe I think: "sweet corn, raspberries, cream cheese and ice cream?  I like all of those things, but all mixed together?"  As it turns out, the Sweet Corn & Raspberry Ice Cream Kasey is featuring in the Kitchen is colorful, milky-sweet, slightly tart, floral and mind-swimmingly delicious.
Thus, the use of seemingly disparate ingredients to create a brightly-colored, upbeat and sweetly-flavored treat, makes Let It Die the perfect pairing for today's recipe.  The album collects 6 original tracks penned by Feist and ends with 5 consecutive cover songs including a beautifully-alive rework of the Bee Gee's "Inside and Out" and a plucked-string and swirling cover of Ron Sexsmith's "Secret Heart."  The highlights, however, are definitely Feist's original tracks. The jazzy "Gatekeeper" opens the album with little more than simple acoustic guitar and Feist's light, honeyed vocals; and, despite the lack of significant instrumentation, with little more than the occasional shimmering accent or soft-harmony, it feels fully formed. The whimsical, hand-clap studded "Mushaboom" tumbles open into a big, piano-laced, twinkling, orchestral pop song. Sparse ballad "Let It Die" is a lovingly-phrased ode to a failed relationship: ("don't you wish we could forget that kiss . . . the saddest part of a broken heart isn't the ending, so much as the start"). Meanwhile the sexy and smooth "Leisure Sweet" is laced with finger-snaps and not-so-indiscreet come-ons: ("Hang up your jacket / Undo my back zip / Please / . . . / In my leisure sweet / Come lie next to me / We can be complete / And do what we do when we're there"). Indeed, Feist demonstrates no hesitation to start from scratch from track to track.  Moods change, genres change, instruments change, song-writers change, and even language isn't a constant (two tracks are in French).  Feist and her sweet, bright voice are the sole constants, but they prove to be more than enough to carry the album.
Head to the Kitchen to read the recipe for Sweet Corn & Raspberry Ice Cream (adapted from a recipe by Jeni's Ice Cream in Columbus, Ohio), and then stop by Insound to buy Feist's Let It Die on vinyl.