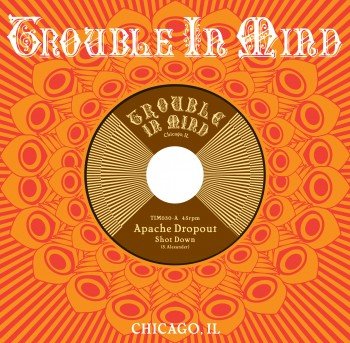 Trouble In Mind has time and again proven to be one of the most reliable indie labels in rock 'n roll, constantly publishing some of the fuzziest, scuzziest, yet melodically upbeat cuts you'll find on the whole of the Internet.  The pair of beer garden growlers on the Shot Down 7″ by Bloomington, Indiana's Apache Dropout are a prime example. The A-side is a sweaty, blistering garage-rock romp with thunderous percussion, a swaggering bassline, roaring guitar and guitarist/singer Sonny Alexander gravely howling "I've been shot down."  The B-side, "Sister Burnout", is a shredded psychedelic cut with a steady, burnt-out groove. Get this now.
Apache Dropout – Shot Down

Buy it at Trouble In Mind.