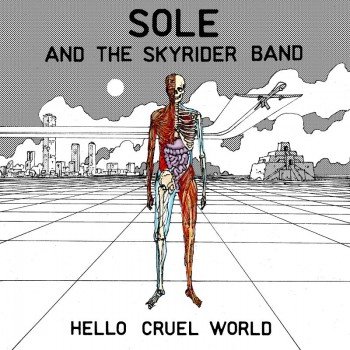 Sole's Selling Live Water was one of the best indie-rap albums ever. Fact. So when he releases a new album, I listen — and so should you.  What made Selling Live Water stand out is that it was experimental, fearless and not afraid to disregard the boundaries of hip hop. With tomorrow's release of his latest effort, Hello Cruel World, it's clear that Sole is still pushing at the boundaries and isn't afraid to experiment.  Just reading the list of guests that appear on the album gives you the sense this isn't going to be your normal hip hop album with appearances by Xiu Xiu, Lil B THEBASEDGOD, Pictureplane, and Kool A.D. (from Das Racist).  Indeed, on Hello Cruel World,  Sole has reinvented his style while nonetheless retaining all of the best elements of his prior albums including cerebral lyrics delivered with a flinty,  gun-spark like flow paired with hazy, sputtering rhythms and thoughtful production. It's gritty, well-stated underground hip hop.
And if being a great rapper with experimental production and unique melodies wasn't enough reason to love Sole: it turns out that he is a big old foodie too.  On the track "Napolean" he raps about being "an amateur chef f*cking with rare spices."  I guess when you are a rapper who doesn't rap about guns, hoes and drugs you need to find more down-to-earth subject matter.  And that isn't his only food reference that he'd done recently.  In fact, we're excited to share an unreleased track from Sole titled "We Stay Eating" (a slightly different version appeared on his free Nuclear Winter Volume 2 Mixtape).  In addition to the food related theme (sample lyric: "you can't go wrong with quinoa – especially with avocado on it") it features a James Blake sample.  Buy Hello Cruel World from Insound.
Sole – We Stay Eating (feat. Busdriver)(with James Blake Sample)
Sole – Bad Captain Swag (feat. Lil B & Pictureplane) (stream via Soundcloud)
Sole's Recipe for Vegan Tuna Salad:
32 oz of navy beans
3 stalks of celery (diced finely)
2 garlic cloves finely diced (add more to taste)
quarter of an onion diced (or a couple spring onions)
two tablespoons of veganaise or something similar(or more to taste)
one tablespoon of mustard (or more to taste)
2 tablespoons of capers(optional)
salt and pepper to taste
*optional : dried nori seaweed, basil, pickled habaneros, pickles, anything.
usually when i make this i get a bunch of dried navy beans, boil em until they are soft and then mix in.  this is good because you can get dried organic navy beans very inexpensively and it lasts the whole week if stored in a tupperware. i often make this at the beginning of the week and its what my wife and i have for lunch during the "work week."  this goes great with sprouts.
first mash the navy beans, then mix in the mayo, mustard and everything else.  put in fridge.  holds for about 5 days or more.