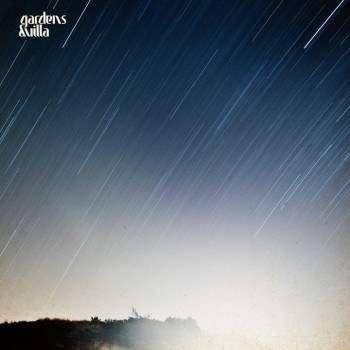 I've been somewhat unintentionally sitting on Gardens & Villa's self-titled debut for awhile now. When I first heard it, I knew that it would pair very well with one of Kasey's recipes — somehow, their sound just reminded me of the way Kasey and I cook at home. It was playful, bouncy and fun (you should see us dancing in the kitchen while we work). Still, it took awhile before the right recipe presented itself. Nonetheless, Santa Barbara-based Gardens & Villa's self-titled debut feels like a perfect pairing for Kasey's Strawberry Conserve recipe. Their music is sweet, sunny, earthy, honest and, somehow, seems almost strawberry-garden fete appropriate.  At the same time, they balance the organic elements of their sound with slightly less garden-fresh elements such as synths and rubbery rhythms to give their music its own unique signature. And that combination of elements makes their self-titled album a perfect pairing for today's recipe.
Gardens & Villa opens with the bouncy strut, twinkling ambiance and cryptic, crooned lyrics of "Black Hills."  Buoyed by half-howled harmonies and spacey sound-effects, it's a highlight for sure, but hardly the only standout on the album which is solid throughout.  For example, the ominous lyrical content of "Black Hills" ("black hills white nights / up on the mountain we climb / we watch the seas rise so high / we will be baptized just like before") is a good contrast for the playfulness infused into tracks such as "Spacetime" which features an almost silly voice slowly, carefully enunciating the title through a tinny, wobbly effect.  Indeed, Gardens & Villa demonstrate a fearless playfulness, unflinchingly adding things such as wood-flute solos and similarly "un-indie" elements that one would expect to sound cheesy, but which they manage to pull off effortlessly. Definitely another great addition to 2011's already impressive roster.  Buy Gardens & Villa's self-titled LP from Insound.
If you haven't already, you should sing-up now for our Pairings Box if you haven't already.  Quantities for the first one are going to be super limited.  Head to the Kitchen for Kasey's Strawberry Conserve recipe.