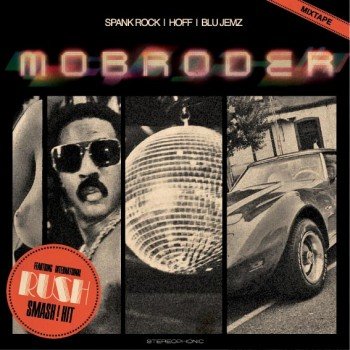 So here is a unique, albeit somewhat questionable, idea:  Spank Rock (a.k.a. the salaciously-tongued Baltmore-based M.C. who once eloquently told us that "behind my Gameboy I got game girl") decided to team up with DJ Hoff and Blu Jemz to record an Italio-disco/rap concept album set in Miami, 1983, about a fictional 1970's handlebar-mustached disco superstar named Mobroder searching for his soul after having lost direction from greed and cocaine-use. Mobroder, once the king of disco, has to reevaluate his love life and rediscover his mojo while battling rising European disco stars for supremacy of the disco charts.  I know what you're thinking: "Why the hell not?"  Surprisingly, though, the Mobroder mixtape is very listenable – maintaining a cohesive plot line and some damn good music.  It's a free download (in the form of a single continuous MP3) from the Mobroder website.  Below you can check out an excerpt I prepared.
Mobroder – Mobroder vs. Fibrezio
Don't forget to "heart" our songs on hypem if you like what you hear!