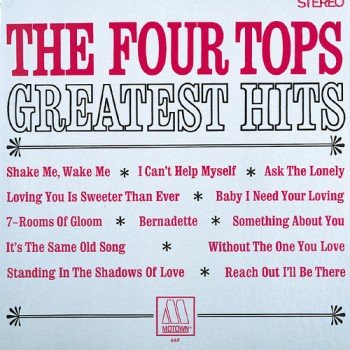 I recently raided several Columbus, Ohio Half Price Book locations, systematically plucking out all of the best vinyl records from their inventories.  In all, I probably took 15-20 records back with me to California.  My bounty included Aretha Franklin's Live at the Fillmore, Portishead's Dummy, The Supremes' Anthology, The Ventures' Walk Don't Run, The Beach Boys' Endless Summer, and The Four Tops' Greatest Hits, in addition to records by David Bowie, The Temptations, Al Hirt, Louis Armstrong, and others.  And amongst all of those great finds, it is the Four Tops collection that has been receiving the most play around our place.  And during these repeated listens, I've noticed a few things that differentiate the Four Tops from their Motown peers.  Specifically, I've realized there is a certain Gothic-quality to the Four Tops' music.  Sure, like most Motown music from this era, many of the melodies are cheery with an emphasis on the upbeat, but with the Four Tops, these melodies are also balanced against an intrinsic gloominess to the songs' subject matter (especially on tracks like "Reach Out (I'll Be There)", "Standing In The Shadows of Love", "7 Rooms of Gloom", and "Bernadette") – not to mention frontman Levi Stubb's deep baritone, which was itself unique amongst Motown's roster of tenors.  Indeed, the Four Tops are unique because they are as salty as they are sweet.  And it is this quality that makes them an excellent pairing for Kasey's salted butter caramels which are smoky, delicious and simply irresistible.
I think I've always enjoyed the Four Tops, but playing these records over and over in the past few weeks have made me really reconsider the quality of their music.  For example, I'll confess to naively allowing myself to believe that music used to be simpler.  That is to say that I have let myself believe that love songs were once straight-forward and uncomplicated.  But like in life, nothing has ever been simple about love in pop music, and the Four Tops are a perfect example.  Even the group's most-memorable and catchy cuts are pleading and desperate in their profession of love. For example, consider "I Can't Help Myself (Sugar Pie, Honey Bunch)" which features the lyrics "in and out my life / you come and you go / leaving just your picture behind / and I've kissed it a thousand times / when you snap your figure or wink your eye / I come running."  And then "The Same Old Song", which musically sounds like bottled sunshine, is actually a pretty dreary tune about missing a lost love: "a sentiment fool / am I / to hear that old song and want to cry / but the melody keeps haunting me / reminding me how in love we used to be."  And I suspect that it is this honest and occasionally brutal take on the difficulties of love that allow these songs to maintain their power nearly a century after they were originally written.  And if you don't believe me, or you think I'm over-stating how relevant these songs can still sound, I highly recommend you actually sit down and listen to them for awhile.  This collection of music is pure gold.
Head back to the Kitchen to read Kasey's recipe for salted butter caramels.  If you are looking to buy a new record by the Four Tops here is a link to a good one available at Insound.