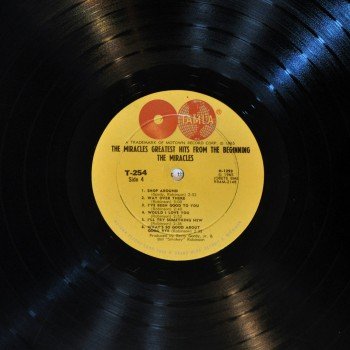 Pairing music with food is all about creating the right ambiance.  I tend to pair a lot of our recipes with new indie music, and, of course, that is a reflection of the fact that Kasey and I listen to a lot of contemporary artists when we are working in the kitchen.  But sometimes indie-rock isn't the ambiance we are looking for in our dining room.  In fact, we frequently like to listen to old jazz, soul, R&B, and pop records far more often than it might appear based on the music we frequently feature here. Tonight, for example, we are listening to tunes by the "showstopping" legends The Miracles (later known as Smokey Robinson & The Miracles). And if you are looking for a flirty, fun atmosphere in your kitchen or dining room – you'd be hard pressed to find a record that can deliver as consistently as The Miracles' Greatest Hits From The Beginning double LP.  This collection demonstrates why The Miracles are considered one of the greatest groups ever.
Greatest Hits From The Beginning features all of The Miracles top singles released by 1965 including "Shop Around," "What's So Good About Good Bye," "Mickey's Monkey," "You've Really Got A Hold On Me," "Would I Love You," and "I Gotta Dance To Keep From Crying" – although really every song compiled here is a hit (especially on the second LP).  The Miracles' frontman, the unstoppable Smokey Robinson, is one of the greatest song writers of all time, and was even sited as a significant influence by John Lennon (who called Robinson his favorite songwriter) and George Harrison.  The Beatles even covered "You've Really Got a Hold On Me" on their second album.  The single "Shop Around" was also Motown's first #1 hit single.  And the reason they were so beloved is pretty obvious: Smokey knew how to pen timeless love songs.  By and large every track on here is coy, clever and playful.  And so when Kasey and I wanted to set a cheerful and upbeat mood to accompany her extra-delicious Halibut on Minted Fava Bean and Pea Puree recipe – The Miracles proved to be the perfect pairing.  Not that you need the feel good music – the recipe will do just fine in delivering you to your happy place.
The Miracles – Shop Around
The Miracles – You've Really Got A Hold On Me
Head to the Kitchen to read the recipe for Halibut on Minted Fava Bean and Pea Puree.