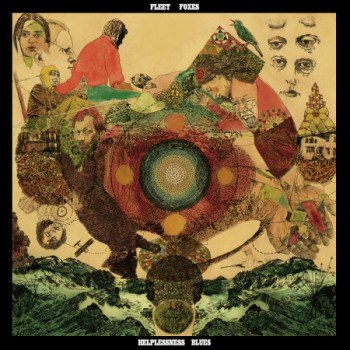 It's been awhile since we last heard new material from Seattle's Fleet Foxes (2008 to be exact). So if you fell deeply in love with their debut album and/or their lush single "White Winter Hymnal", it would be understandable if you were impatiently wondering what the hell they've been up to over those two years.  Well, as it turns out they've been very very hard at work on their sophomore LP: fine tuning their form of baroque, harmonic folk-pop; intricately crafting their lush, string-laced melodies; mining the depth's of lead-singer Robin Pecknold's already impressive vocals; and lovingly perfecting their songwriting. Apparently they even trashed a version of the record that they had completed back in 2009 because it wasn't what they were looking for. Does that mean that Helplessness Blues is as good as their self-titled debut? Absolutely not. No, it means that their new album is much better than anything they've ever done before.
Although it is quite different from their previous effort, there is no question that this is the same band – but it is a band that has clearly grown in the two years since we last heard from them.  You have the same rustic earthiness informing the instrumentation and Pecknold's unmistakeable, soaring vocals anchoring the core of each track.  And like its predecessor, Helplessness Blues is also simultaneously savory and sweet with sincere emotional complexity.  But it is even more dense, lush, orchestrated, emotionally-connective, and intricately crafted than Fleet Foxes.  It pairs well with Kasey's recipe for Rancho Gordo beans with sausage, pistachios and honey which is surprising, sweet, savory, satisfying and demonstrates a relatively complex flavor profile.  I won't say the recipe is a culinary masterpiece, but I will say this recipe is a true "go-to" recipe – one that will delight you with each bite.  It is is easy to throw together, but also far more exciting than it might appear at first blush.
So yeah, Fleet Foxes managed to avoid the sophomore slump.  Indeed, Helplessness Blues is a true masterpiece of the caliber that most bands never achieve.  It is an album for an album-lover.  In fact, I intentionally haven't singled out any of the tracks for this review because it seems to me that this is an album best listened to as an album.  It is dense, lush, orchestrated, emotionally-connective, intricately crafted, and unquestionably rewards repeated, careful listens.  The songs slowly unfurl with melodies that can connect on first listen, but which are crafted with an intricacy that will defy attempts to take it all in on with one listen.  This all may sound like hyperbole, but I truly think this album is worth every word of praise.
The album won't be officially released until May, but like most albums nowadays – it leaked.  But judging from the bands reaction to the leak, it is an album Fleet Foxes are clearly proud of (as they should be).  In fact, Robin Pecknold stated on Twitter (in between tweets about picking up a copy of Radiohead's newspaper and how much he loved Radiohead's track "Codex") that he was glad it was out there for the world to hear: "Thanks for checking out the record! Very much hope you enjoy!"  His only concern was that the original leak wasn't high quality.  Because he wanted it heard in the way the band intended it, they even worked hard to get a higher quality version on the web.  Subsequently, he tweeted that if you are going to download it, he would like you to get "the one thats over a 100mb."  Irregardless of whether or not you decide to download the leak (which I won't go so far as to recommend whether or not I may have done so myself), I can say that if you are like me, it is one you'll definitely want to buy on vinyl once it is officially released.  Oh, and it is already available for pre-order from Insound, if you want to go ahead and get that out of the way.
Fleet Foxes – Helplessness Blues
Head to the Kitchen to read Kasey's recipe for Rancho Gordo bean with sausage, pistachios and honey.  Don't forget to "heart" our songs on hypem if you like what you hear!