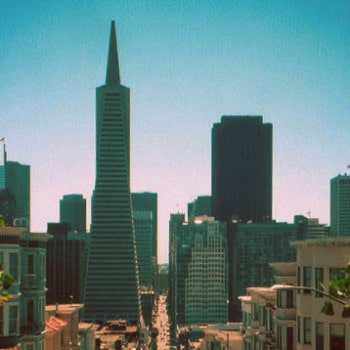 I'm pretty proud of the music scene in my adopted home by the Bay.  Indeed, San Francisco has consistently maintained a seemingly endless pool of talented young musicians making some of the best, forward-thinking music of their time; we have great studios where bands can record their masterpieces; we have great venues for watching bands of all sizes; and we have some of the best music bloggers on the Internet who are constantly on the prowl for more great music.  City Limits Records aims to combine many of those elements into one limited-edition, hand silk-screened vinyl 12″ collectible that simultaneously showcases and promotes some of the city's best up-and-coming artists who have contributed exclusive tracks for the release.  City Limits Records is the project of my Bay Area music-blogging colleagues Ears of the Beholder and See the Leaves. 
Their first release focuses on the San Francisco music scene and features exclusive tracks by The Soft Moon, The Sandwitches, Skeletal System, Young Prisms, Melted Toys, Maus Haus, Exray's, Kites Sail High and more.  Future releases will target other cities and will be curated by bloggers from those cities.  As you may have heard, music blogging is hardly a lucrative hobby, so in order to get the project funded they started a Kickstartr page.  And like any good Kickstartr project, there is plenty in it for you if you make a donation, er, pre-order.  That's right they aren't asking you to give them something for nothing.  For a mere $30 – you'll get your copy of the record with custom hand-drawn artwork prepared by one of the bands, a digital download of the album, and your name in the liner notes!  For a $20 pre-order you get the record, the digital download and they'll even still put your name in the liner notes (just no custom hand-drawn artwork).  Or, if you aren't a vinyl aficionado (though it is never too late to start) you can go with the digital download for only $10.  Check out the video below to hear Peter Arko of Ears of the Beholder and Robert Khoury of See The Leaves describe the project.  Then scroll down a little further to hear tracks from a few of the bands that are featured on City Limit's inaugural release.  Most importantly – go pre-order a copy!
Melted Toys – Come On
Maus Haus – Reaction
Young Prisms – Sugar
Don't forget to "heart" our songs on hypem if you like what you hear!