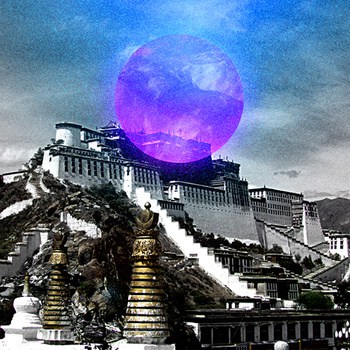 Sometimes I worry that I'm becoming jaded as a music critic. In part because I am so rarely blown away by a new band. To be honest though, most of the music submissions that I get don't even really receive a fair chance. It just isn't possible to listen to everything that gets sent to me more than once, and often I find it hard to even listen to more than a minute of most the songs. So if something doesn't really grab me right away there is a good chance I'll just move on. And while I still hear a lot of music that I like, it is increasingly rare that I feel just smoked by how awesome an artist is.
Well the other day, I got my mind officially f**king blown. I organized a little online listening party with a host of fellow bloggers and musicians and we threw down some of our favorite new music. Unholy rhythms, Tofu & Whiskey, Leaving Scene, No Modest Bear, Teen Daze, Teenage Reverb, Stadiums & Shrines, Cream Team and waaaay more folks took turns DJing for the room (it is hard to identify everyone b/c most folks used pseudonyms).  And the result was an intense overdose of awesome. So much great new music. We even got treated to a new unreleased remix that Teen Daze was working on that just kills all. One of my other favorite discoveries from the afternoon (you'll be hearing about more of them in the next few days), was the track "Ramachandran" by Fancy Mike which was spun for the room by another TK favorite – Teenage Reverb.  Fancy Mike's EP, Madison Square Gardner, is a must own if you like grimy, stuttery and highly textured electronica in the vein of FlyLo, Four Tet, etc.  Dude isn't just in the same league as those heavyweights – this EP demonstrates that he is every bit their equal. Take a listen to the tracks below and then try to tell me that shit isn't sonic-napalm.
Fancy Mike – Ramachandran
Fancy Mike – Ivy League Smack feat. DAM!BEER
Don't forget to "heart" our songs on hypem if you like what you hear!