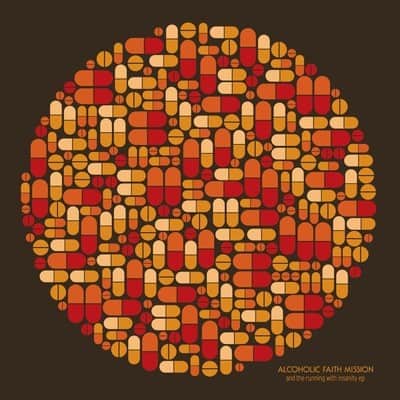 Alcoholic Faith Mission are a Brooklyn-based six-piece indie-folk collective let by a duo of Danish song-writers, Thorben Seierø Jensen and Sune Sølund, that I recently discovered in my Sound Cloud Dropbox the other day.  The track that caught my attention – "Running With Insanity" – is from their latest EP And The Running With Insanity.  It is one of those tracks that immediately catches your attention with a hand-clap happy rhythm and upbeat, whimsical harmonies and a woozy melody.  Strumming acoustic guitars, lush percussion and jubilant strings make for an irresistible indie-pop song that can call to mind a touch of Paul Simon and a dash of Portland's Typhoon. It's an eclectic EP with quirky, wandering melodies and adventurous, clever song-writing that simultaneously covers a lot of ground without ever straying far from their core sound thanks to dual vocalists and thoughtful instrumentation.  A few other standouts include the track "When They Bleed" and "Drowning (In Myself)."  Much thanks to the fine folks at Paper Garden Records for forwarding this to my attention!
Alcoholic Faith Mission – Running With Insanity
Don't forget to "heart" our songs on hypem if you like what you hear!