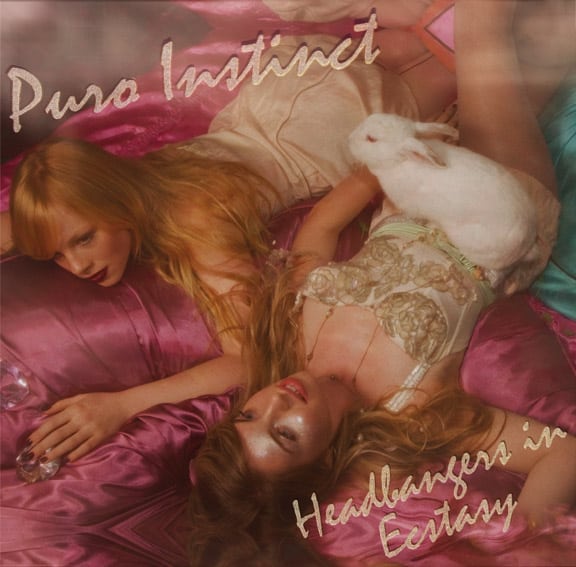 Puro Instinct is the project of sisters Piper & Skylar Kaplan (formerly the band Pearl Harbor). I played their full length debut, Headbangers in Ecstasy, for Kasey and asked her to describe for me what they sounded like.  Her response was that the album "sounds like swimming underwater" which strikes me as an excellent description of their sound.  Sound moves faster underwater, which makes it sound like the perceived sound is coming at you from all directions. Sounds are somewhat muffled and echo-y underwater. Similarly, the distinctive sound crafted by Puro Instinct on Headbangers in Ecstasy is enveloping, echo-y and gently washed out.  And although being underwater can feel slightly disorienting, it can also instill a certain peaceful, detached calm. Sounds are rarely startling regardless of what is going on above the surface of the water. Similarly, tracks like the beautifully shimmering "Stilyagi" and "Escape Forever" have an undeniable and active kinetic energy to them, and on the latter there is even a vaguely menacing quality, but nonetheless the results are soothing and cool. Indeed, the way the heavily reverberating instrumentation on "Escape Forever" – especially the haunting, distant horns and menacing bass line – contrast against the bright guitars and sweetly melodic quality of the vocals, make a good metaphor for watching an ocean predator underwater from a position of relative safety where you can admire the creatures beauty without fear for your safety.
Because of the underwater-like quality of Puro Instinct's sonic delivery, I can't imagine pairing this dish with anything other than a seafood recipe. And it definitely calls for a modern, fresh recipe. Thus, I think the opah two ways recipe that Kasey is featuring in the Kitchen is the perfect pairing. The recipe, like the album, is light but delicious; clean but loose; and relatively simple in structure, but slightly fussy in production. In other words, both consist in a small number of good but straight-forward ingredients, and all of the excitement lays in the preparation.
The album is consistent all the way through, but without question the most immediately affecting track on the album is "Stilyagi."  The track features Ariel Pink who contributes "ambient rainclouds, drum machines and other sonic sparkles."  Nonetheless, it isn't Pink's contribution that makes this song shine. It's simply a gorgeous melody and a fantastic example of good song-writing. And as an interesting aside it is worth knowing that the song's title is in reference to Russian hipsters or fashionistas of the 1940s-1960s.  The group was inspired by Western trends of the time and were generally looked down upon in Soviet society. They listened to illegal bootleg recordings of American-swing music and later rock n' roll. Many of these albums, which were outlawed in Soviet Russia, were cut onto x-ray films that were referred to as "music on the ribs" or "rock on the bones", and copies of these records (especially for popular artists like the Beatles and Elvis) are highly sought after by collectors. So in that regard, Stilyagi are an undeniably cool theme for an indie song.  Other highlights include the quietly jubilant tune of "Silky Eyes," the gently tumbling rhythm of "Everybody's Sick," and the grooving, disco of "No Mames."
Headbangers in Ecstasy is scheduled for release in February via Mexican Summer.
Don't forget to "heart" our songs and subscribe to our feed on hypem if you like what you hear.  Then head back to the Kitchen to read how we prepared some delicious California Opah two ways.