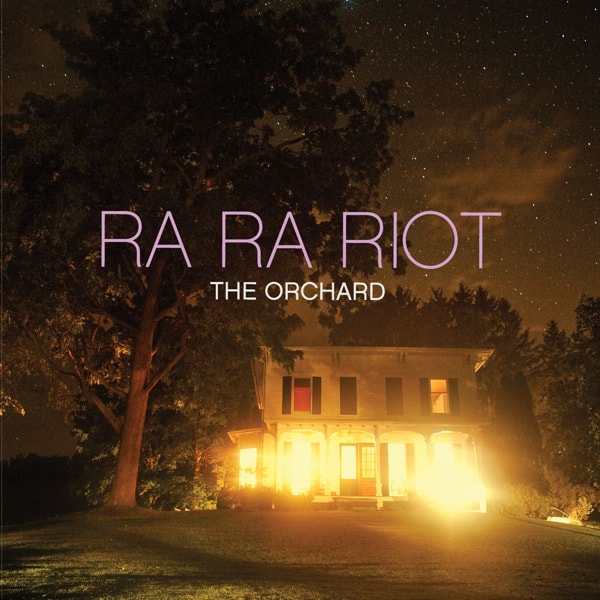 Do you love sweets? Do you love cookies? Are you a chocolate fiend? Well, look no further. Kasey recently stumbled across the perfect recipe for chocolate French macarons, and I can promise you that you'll never find a tastier cookie.  This is all you'll need to satisfy those cookie-monster like chocolate cookie cravings. These gooey little morsels have a slight initial crispness, but are soft and light through the cookie layer before reaching that sweet, chocolate ganache middle.  Pure bliss, I tell you.  These became an immediate favorite in Kasey's parents' home. Her father and grandfather now eagerly request them.  So for a pairing, I wanted an album that could reach the upbeat, blissed-out highs that I feel when eating one of those cookies; and that also had a tight, crispness and sweet, gooeyness that could match the cookie's textures.  That record is Ra Ra Riot's The Orchard.
The Orchard is Ra Ra Riot's second full length. It was released on October 2010 and undeniably reflects growth in the band's songwriting and compositions.  It is slower, and more plaintive than their their debut, but retains much of the urgent joyousness that permeated each nook and cranny of the debut.  The album's first single, "Boy," is an explosively catchy cut with powerful, driving percussion and an elastic, wiggling bass line that surge alongside an elegant string section and sparse, glittering guitar.  It is a mature pop song that is as notable for its restraint as it is for its incandescent exuberance and in that way is perfectly representative of the album as a whole.
The following track, "Too Dramatic," is similarly jubilant, but without getting cheesy or obnoxious.  Instead, it is an unusually literate, dapper slice of pure pop music that feels both brawny and luxurious. Further down the line, "You And I Know" switches up the pace, as it is one of the album's most stripped-down tunes, and features cellist Alexandra Lawn briefly taking over vocal duties.  The succinct track is powered by laser-sharp synths, and stands out as a refreshing step outside of the bands' normal comfort zones.   The neighboring "Shadowcasting" is another album highlight that finds strength through its arena-sized melody and wide-eyed, well-mannered polish.  Although they are frequently compared to contemporaries Vampire Weekend, Ra Ra Riot's best moments normally will also happily invoke artists like Police, Genesis and Paul McCartney.  Snag this one from Amazon.
Don't forget to "heart" our songs on hypem if you like what you hear!  Then head back to the Kitchen to snag Kasey's recipe for Chocolate French Macarons.