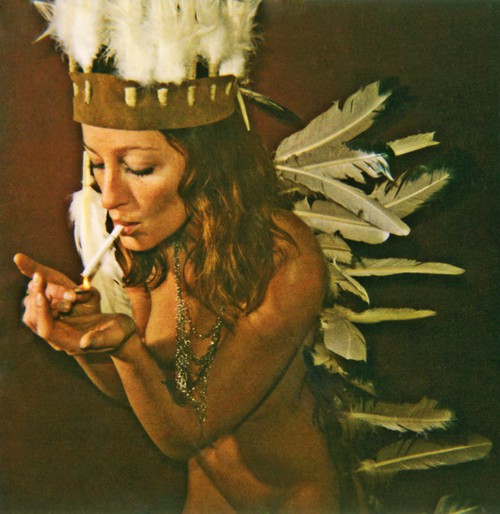 Hello, it's me.  Or rather, it is my first mixtape for our new site, which I have creatively titled "November 2010 Mix."  As you have come to expect from the mixtapes I prepared on the old site, this mix is super-saturated with music that is elegant, juvenile, hissing, cooing, snarling, purring, lavish and razor-sharp.  Indeed, you are certain to stumble across faces you recognize as you wander these ever-changing corridors of sonic bliss.  Many of these artists have been previously featured on these pages before (such as the Decemberists, Bear Hands, The National, Real Estate, Kanye West, Theophilus London, the XX, Girl Talk, the Japandroids, Evenings, Tennis and Girl Talk), but this is the first time I'll have introduced you to folks such as Ty Segall, La Sera, Courtship, Blouse, Emily Reo, Madjo, and Reading Rainbow (who was brought to us by the wonderful people at Hozac Records).
GIVEAWAY: (Contest has ended.  Thanks to all who participated!) And speaking of Hozac Records, I am more than a little excited to offer our next amazing contest celebrating our recent launch thanks to the awesome folks over at Hozac.  One lucky reader is about to hit the jackpot with a Hozac prize pack featuring four 12″ records (Super Wild Horses – Fifteen; Woven Bones – In and Out and Back Again; Medication – This Town; and Hozac Hookup Klub Round One feat. Dum Dum Girls, Idle Times, Woven Bones and way more) and nine 7″ singles (by the following artists: The Liminanas [red vinyl], Nerve City, The People's Temple, Fey Gods, Myelin Sheaths, Burning Yellows, Sharp Ends, Nobunny [purple vinyl], and Fungi Girls [red vinyl]).   To win, simply leave a comment on this post.  Tweet about the November Mix to be entered twice.  Names will be thrown into a hat, and one winner will be selected at random.  See the picture at the bottom of the page to see what you can win.  Contest ends at 10:00 pm PT on Tuesday, December 7, 2010.
Turntable Kitchen :: Nov. 2010 Mix (zip File)
1. TV Girl – If You Want It
2. Bear Hands – Crime Pays
3. Ty Segall – Sad Fuzz
4. The National – Anyone's Ghost (Acoustic SiriusXMU Session)
5. La Sera – Never Come Around
6. Real Estate – Out of Tune
7. Reading Rainbow – Always On My Mind
8. The Decemberists – Down By The Water
9. Courtship – Ride (Ciara Cover)
10. Blouse – Into Black
11. The XX – You've Got The Love (Theophilus London Remix)
12. Kanye West – Power (Remix)
13. Girl Talk – Every Day
14. Evenings – Friend [Lover]
15. Japandroids – Art Czar
16. Emily Reo – Tricycle (Psapp Cover)
17. Tennis – South Carolina
18. Madjo – Where Did You Sleep Last Night (Leadbelly Cover)
Don't forget to "heart" our songs on hypem if you like what you hear!  Photo (upper left) used under Creative Commons license courtesy of Neil Krug.