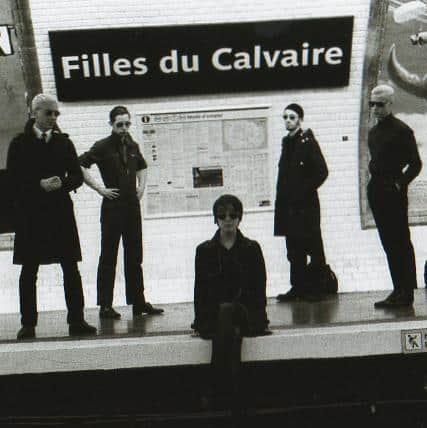 I've never had strong feelings one way or another about short bread.  Instead, at bakeries I'd just glance at it with disinterest while targeting the sexier looking pastries and cookies.  But the lavender and sea-salt short bread Kasey is featuring in the Kitchen has definitely given me reason to rethink that strategy.  This shortbread is crumbly, buttery and delicious.  In fact, it turns out shortbread can be sexy.  And so, this shortbread pairs well with the sexy & crumbly Le Podium#1 by the Paris-based quintet La Femme.
Their debut EP, Le Podium#1, overflows with wet-reverb, echo and menacing-amounts of ambience resulting in what I would describe as darkly erotic, lo-fi surf rock.   The opener "Sur La Planche" (which translates to 'On The Board') features a dark, locomotive rhythm that beautifully captures the essence of early 1960's surf-rock while taking it for a new spin: as if they were writing about the thrills of riding giant waves during a heavy storm.  The equally rhythmic and sinistrally sexy "Telegraphe" propels forward through chugging percussion and haunted-house keys.  The EP's third track is another solid cut, "La Femme Ressort", features bright-bouncy keyboard alongside ominous guitar chimes, sparsely reverbating bass and a clattering, marching percussion.  It is really good stuff, and without question this is going to be a band to watch in 2011.
On a side note, the picture above is not the album cover.  The actual album cover is slightly hard to find – though censored versions are abound (it is a NSFW photographic remake of French painter Gustave Courbet's painting L'Origine du monde).  The EP is available digitally and on 10″ vinyl via their bandcamp page.
Don't forget to "heart" our songs on hypem if you like what you hear.  Then head into the Kitchen to read the recipe for Kasey's sexy lavender and sea-salt shortbread.