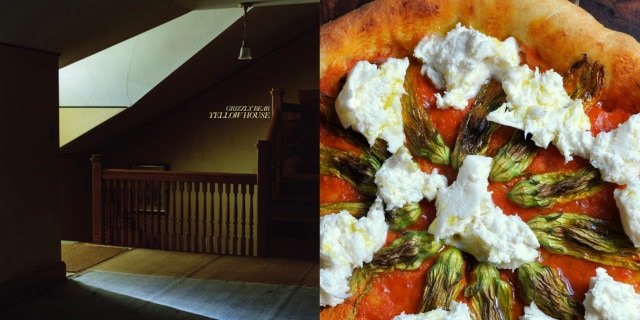 Grizzly Bear's 2006 album, Yellow House, is almost the definition of a modern, lush and beautiful indie-rock album: an otherworldly, ethereal folk-psychedelia that floats hazily and warmly through a deep symphonic and choral soundscape.  Simultaneously hip, modern and rustic, Yellow House is a perfect musical analogy for the squash blossom and burrata pizza recipe featured today on eating/sf.  Both the pizza and the album are rustic, fresh, modern and urban.  After just one bite, Kasey and I agreed that this recipe was a new favorite, but the more we ate, the more we savored the pizza, the more we realized that this was definitely a "go to" recipe.  Something to prepare whenever squash blossoms were available and in season.  Similarly, Yellow House is one of those albums that unfolds and fully demonstrates its subtleties and beauty with repeated listens.  For me, it is one of the greatest albums recorded in the last ten years, and a definite "go to" record for whenever you want something thoughtful, evocative and nuanced.
The album opens with gently rolling piano before soft harmonies, singer Ed Droste's light vocals, plucked acoustic guitar, and a twinkling melody wafts in light upon the air on the track "Easier."  The album's most well-known single, "Knife," is hauntingly catchy as it rolls along at mid-tempo featuring ghostly backing vocals and sparse instrumentation.  But for me, "Knife" is hardly the album's best moment – just its most immediately accessible one – the best tracks are the ones that you discover after a few listens, tracks like "Little Brother," or the Tom Waits-esque boogie that makes up the tune on the track "Plans," or the swooning tune that drives "Marla," and the shimmering acoustic rift that falls near the half-way point on the cut "On a Neck, On a Spit."  Indeed, even the slowly unfurling and whispering closing number, "Colorado," retains countless moments of quixotic beauty and intriguing arrangements.  Spend some time with this record until you fall in love with it if you haven't already.  Here is a link to where you can buy the LP on Insound.
Grizzly Bear – On a Neck, On a Spit
Head back to eating-sf to read the recipe for the squash blossom and burrata pizza.