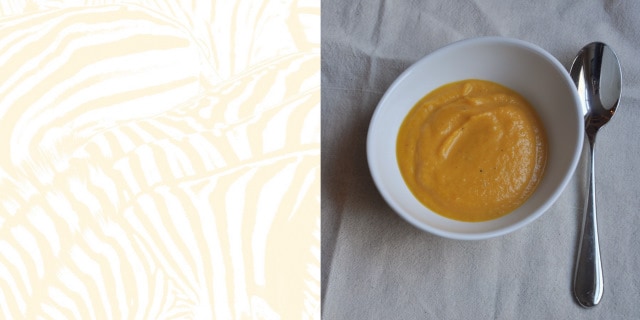 I'm not really what you'd call a "carrot soup person."  Not that I having anything against either soup or carrots.  I like carrots.  A lot.  After all, they are crisp and good for your skin.  And I like soup.  It is warming and filling.  Still, Carrot soup is just not something that sounds like it would blow me away.  So, I wouldn't blame you if you greeted a recipe for carrot soup with a shrug of the shoulders instead of an enthusiastic smile.  Nonetheless, that carrot soup recipe posted today over on eating/sf?  I promise: it'll surprise you. It is creamy, smooth, a little sweet, and the toasted cumin gives it a slightly exotic flavor.  And like raw carrots, you could describe it is as crisp (though in an altogether different way).  And like any good soup, it satisfies and warms.  And the cumin gives it a slightly spicy lushness that you'll love.  Best yet?  It pairs well with one of my top albums of the year: Beach House's Teen Dream.
This Baltimore, Maryland-based duo (guitarist/keyboardist Alex Scally and vocalist/organist Victoria Legrand) are responsible for three albums worth of the finest calming, dreamy pop known to the Western world.  You may recall I gushed over their sophomore album, Devotion, back in a January pairing with crabcakes.  I used words like quiet, passionate, lovelorn, and solemn to describe Devotion.  Lo-fi and washed in reverb, Devotion sounded like an album recorded for one person's ears.  It was a despairingly romantic love letter recorded solely for the ears of a secret lover.  Teen Dream is both different and the same.  Crisp, lush and clean, Teen Dream retains the yearning and world-worn emotion of its' predecessor, but it is also more of a bold, dark exclamation to the world.  The duo inhabit a deeper, more spacious soundstage here, and songs like "Zebra," "Silver Soul," and "Norway" languidly reach dizzying heights in part because of the lush, textured arrangements and cleaner production that distinguish this album from their previous efforts.  But worry not, they don't stray far from what made those other albums great: retro electronics, synths and organs remain a staple of Beach House instrumentation and feature heavily throughout the album.  Likewise, Teen Dream remains lyrically dark while sparkling, upbeat melodies underline a certain hopeful energy that prevails on significant portions of the album, and are especially prevalent on tracks such as "Used To Be," "Lover of Mine," and "Real Love."  It is a beautiful album, that is worth a significant investment of time to get to know.  Personally, I've been listening to it regularly since January, and find that it continues to grow with each listen.  Buy the LP on wax over at Insound.  It comes with a digital download of the entire album as well as a DVD containing videos for each song on the album.
Head back to eating/sf to check out Kasey's recipe for carrot soup.