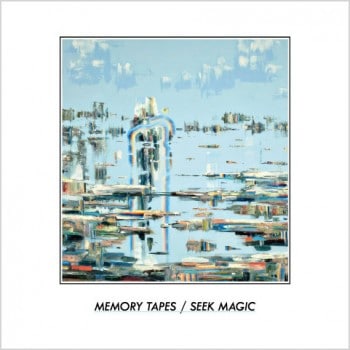 I've come to realize that I'm a big fan of recipes for that call for poaching pears. After all, poaching pears has the benefit of adding to the fruit's natural sweetness and flavor by adding wine, vanilla and other spices to create a more complex and aromatic dish. When Kasey prepared this vanilla bean pear compote, we tried the pears on their own (and they were fantastic!), but also really loved topping the compote with vanilla-bean ice cream and some homemade chocolate sauce. The result was a seriously decadent and delicious dish that will make you feel good on a cold winter night! And if you are looking to feel good and beat the cold and dreariness on a winter night, you'll want an upbeat but cozy Musical Pairing to accompany this recipe, and I recommend Memory Tapes' Seek Magic to be that record.
As I noted when I previously posted about Memory Tapes "Graphics" single, Memory Tapes (a.k.a. Weird Tapes, a.k.a. Memory Cassette) is the project of Philly producer Davye Hyde. "Graphics" is one of the singles from Seek Magic. That cut opens with chirping electro-hum synths and Hyde's distant, buried-under-tape-fuzz lyrics: "I'll be your love / I'll be your friend / I'll be part of the illusion / that led you on / and turned you away / but I'll forget it all." The melody is hazy, floaty, and beat based. And the same could be said for the rest of the album, but that isn't to suggest the album is single-minded. Indeed, Seek Magic flows cohesively from album opener "Swimming Field" through to the aptly named closer "Run Out" (you may recall that a "run out groove" is the groove that ends a vinyl record), but the sonic collage put together by Hyde on Seek Magic is constantly engaging and consistently rewarding. A particularly successful example of this, is the track "Bicycle," which opens with a dreamy melody alongside a light-ringing rhythm that leads into shift to a serious banging beat accompanied by ringing, disassembled vocal samples. It's an uplifting and lovely track about falling in love and running away with your lover: "I'm in love with you, little sister / we ride home in the night / while under our feet, the rain paints the street with the stars . . . lets take off / no one would know that we've gone." It seems like you can still pick up one of the limited edition (1,000 copies) of this record from Acephale Records. It is pressed on blue vinyl and sure is pretty.
Memory Tapes – Bicycle
Memory Tapes – Plain Material
Head back to The Kitchen to read the recipe for Kasey's vanilla bean pear compote (and how to make your own fancied-up sundae).