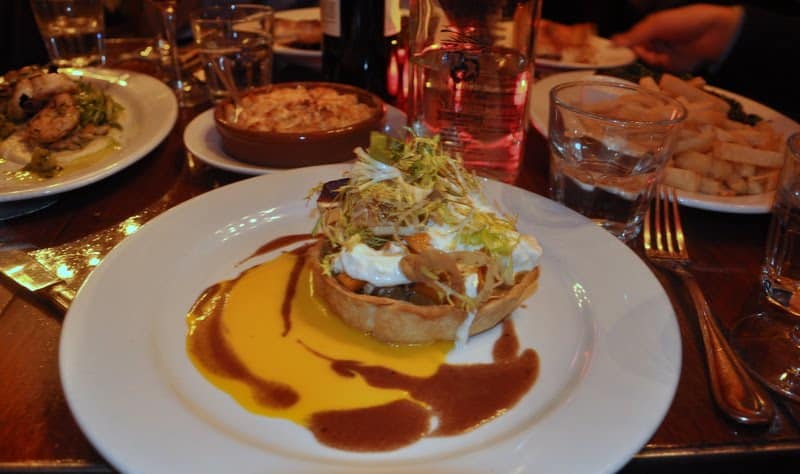 Eating out in San Francisco never ceases to amaze me, surprise me and make me thankful (again) for having the luxury of living in this glorious city–earthquakes and all. Take Blue Plate, for example, a New American spot in the Mission that serves up such delectable dishes as macaroni and drunken goat cheese and grilled wild white shrimp with tangerine salsa verde fennel, toasted orzo and shaved brussels sprouts.
Blue Plate was the destination of our holiday dinner with my parents, and as you can tell from the pictures–there was barely enough room on the table for all of our plates and several bottles of wine. A friend recommended it right around the time that we first visited Maverick–a similarly cozy little space in the Mission that serves New American and Southern dishes with a twist. I remembered the recommendation, and thought that Blue Plate would be the perfect place to celebrate the oncoming holidays and New Year.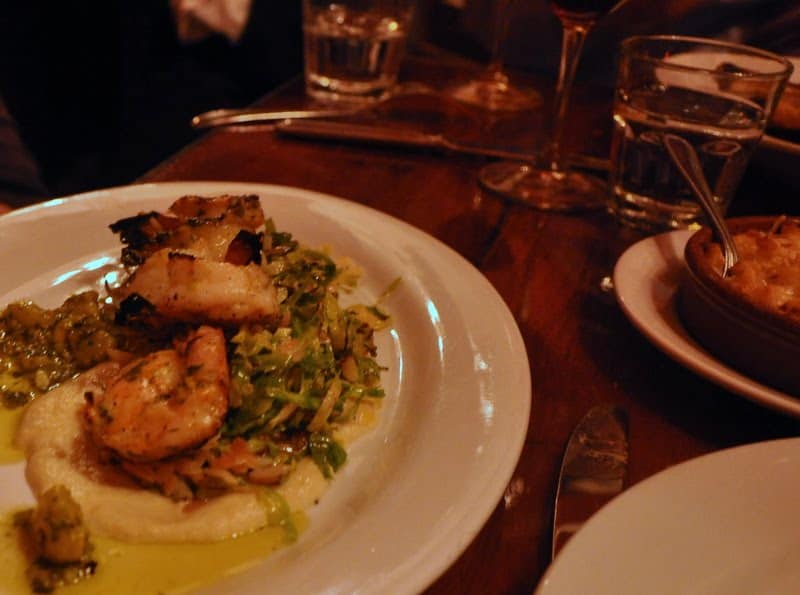 Being that this was the first year that Matt was officially part of the family, we made like a true family–and ordered everything to share. Though I must admit that sharing was hard. I could barely speak between bites of the winter vegetable tart with maitake mushrooms, red curry squash, stacciatella cheese, frisee, pickeled fennel and truffle oil. The above-mentioned white shrimp and orzo was equally delicious. I must document that my mother actually said: "these brussels sprouts aren't so bad." (yes, she who refuses to go near one of my favorite winter vegetables). Naturally, Matt and my dad dug into the pork chop and steak–both of which disappeared pretty quickly.
The drunken mac and cheese, which we ordered as a 'starter' was what really put us over the top. Washed down with some red zin, though, we powered through–enough even, to order a mascarpone cheesecake with candied kumquats. I find that celebratory dinners always carry–at least for me–a hopeful expectation of being memorable. Not only for the company and conversation, but for the vibe and the food. I have to say that Blue Plate did not disappoint–from the slightly confused yet welcoming bohemian/nuevo Mexican/Don Quixote-esqe decor–to the downright fan-freakin-tastic food–it hit every note.
Local Pairings: Joanna Newsom – Yarn & Glue EP + Blue Plate, San Francisco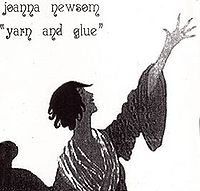 Joanna Newsom recently announced the February 23rd release of her next album entitled, Have One on Me. Her last two albums were stunning, and so I'm eagerly awaiting this one. The anticipation for Have One on Me brought to mind the first time I heard Joanna Newsom's solo music. I first met her when I was interviewing her and her former band, the Pleased, for the now-defunct Sponic zine. During the interview, she mentioned that she had a solo gig where she sang and played harp. When I decided to go catch one of her solo performances at the Hemlock Tavern, I really can't say what I expected at the time, but I certainly hadn't expected what I heard. Her music was unique, original and just stunningly beautiful and weird at the same time. Based on my initial impression, I described her voice as "folksy" and "Bjork-esque" to friends. After the set, she mentioned that she had just signed to Merge, and that it was the last time she was allowed to sell her hand-packaged and homemade EPs. I bought both. And so, with that in mind and in honor of her upcoming new album, today's Local Pairing is the now unavailable 2003 Yarn and Glue EP. For more, head over to Musical Pairings. –Matthew