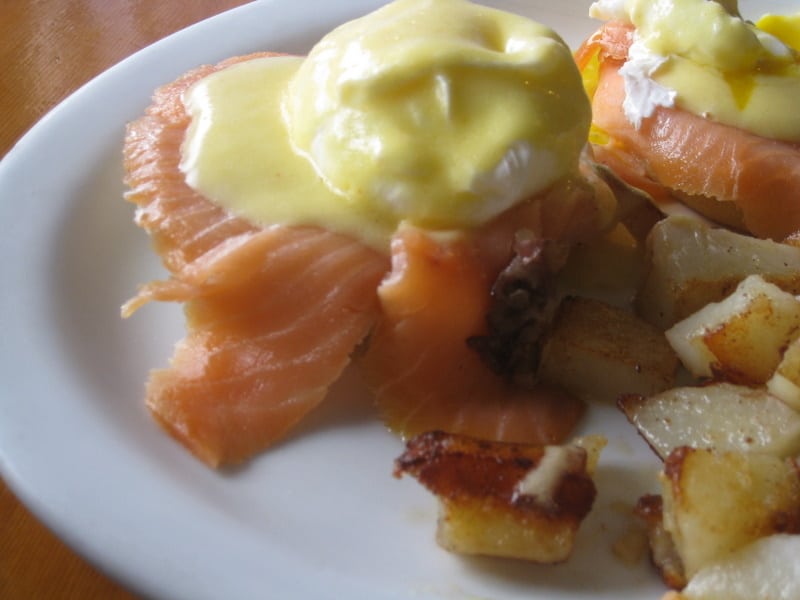 I have kept this little review tucked away for some time now. But I think I'm ready to share it with you now–it's for a cute lil' breakfast place in Glen Ellen, California (right near Sonoma) called the Garden Court Cafe and Bakery, and it was the first place I ate at as a married woman.
The day after Matt and I's September wedding, it rained, heavily. We woke up to a misty, gray morning, and a light fog that gently rolled over the grapevines outside of our temporary abode. Matt had gotten breakfast at the Garden Court Cafe with his brother and sister-in-law the day of the wedding, and raved about it so much that we decided we'd make our first outing there.
One of the things I loved most about this little cafe, which was actually right across the way from the Glen Ellen Inn, where we had our rehearsal dinner, was that it reminded me of my favorite breakfast places in San Diego. The wait was long, but a small outdoor table was spread with some nibbles of fresh-baked pastries, as well as coffee. I wholly believe that any breakfast/brunch place that asks patrons to wait for up to an hour to eat their first meal of the day should treat them to a little snack.
After waiting for what didn't actually feel like that long (or maybe I was still glowing from the night before and the incredible party), we were seated in a little spot right by the window, where the view lent itself to some serious relaxation (think small little downtown surrounded by beautifully-lush greenery, in that pre-rain cloudiness).
We both ordered benedicts. While I'm usually a sweet person (I always opt for pancakes over omelets when I go out to breakfast) those benedicts just looked SO good. I loved that you could order by size (1 egg, 2 eggs, 3 eggs). Some of my favorite breakfast places charge upwards of $15 for huge plates that I can never finish. My Atlantic Salmon benedict was just perfect, though. With a side of perfectly-crispy potatoes and an English muffin, this was a breakfast of champions. One that I highly enjoyed, particularly as I was starved by the end of the evening (saved by the Togo's sandwiches left over from lunch in the refrigerator because ehem…the catering company took ALL of our leftovers). In any case, if you happen to find yourself in the Sonoma area, check this place out, and let me know how the pancakes are!
And on that note, I hope that if you are traveling this weekend, you have a safe trip wherever you're heading. I'll be back, posting, next week, so tune in for some fresh new recipes. Happy holidays (again)!
Local Pairings: Deerhoof – Milk Man + Garden Court Cafe & Bakery
The Bay Area has a history of giving birth and hosting many of the most unique, innovative musicians in music. For example, in the last decade alone, The Bay has been home to Joanna Newsom, Thee Oh Sees, Devendra Banhart, John Vanderslice, etc. Nonetheless, even in a locale full of exotic, innovative bands, Deerhoof easily stands out as one of the most creative and unusual bands in town. Their albums and songs are simultaneously chaotic, sweet, thrashy and melodic. They've won wide critical praise and have been asked to open for indie-rock titans including Wilco and Radiohead. Presently, Deerhoof is an indie rock four-piece consisting of guitarist John Dieterich, drummer/keyboardist Greg Saunier, guitarist Ed Rodriguez and vocalist Satomi Matsuzaki. Their 2004 release, Milk Man, recorded when they were a three piece sans Rodriguez, is a classic. Head over to Musical Pairings for the rest of the review. –Matthew