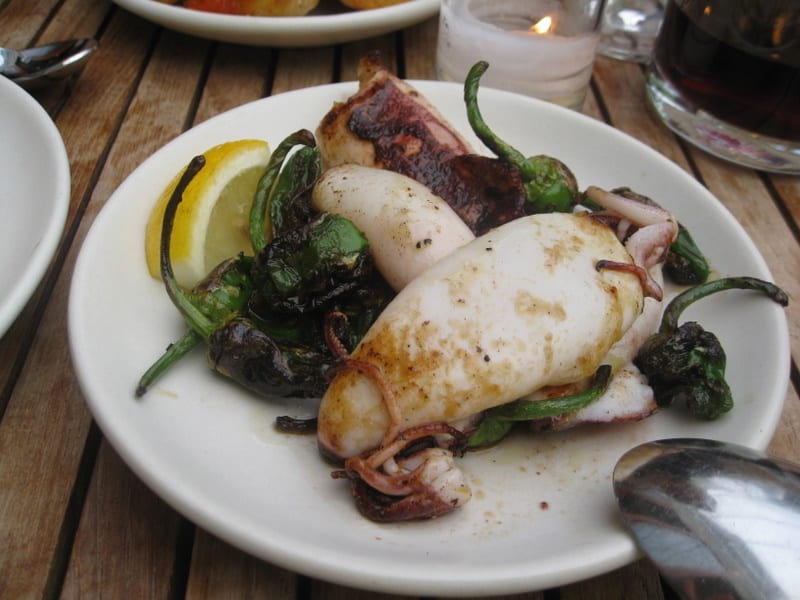 I'll be honest: I've been dying to check out Contigo, the tapas and wine joint that opened in Noe Valley. Contigo's opening had been highly anticipated–its owner and chef blogged his journey to opening up his first restaurant on his blog, In Praise of Sardines. From reading about it before it even opened, and then finally checking out the menu, I was utterly convinced that Contigo was my kind of place. A girl obsessed with all things Spanish, Italian and Portuguese–I mean, could I go wrong at a place like this?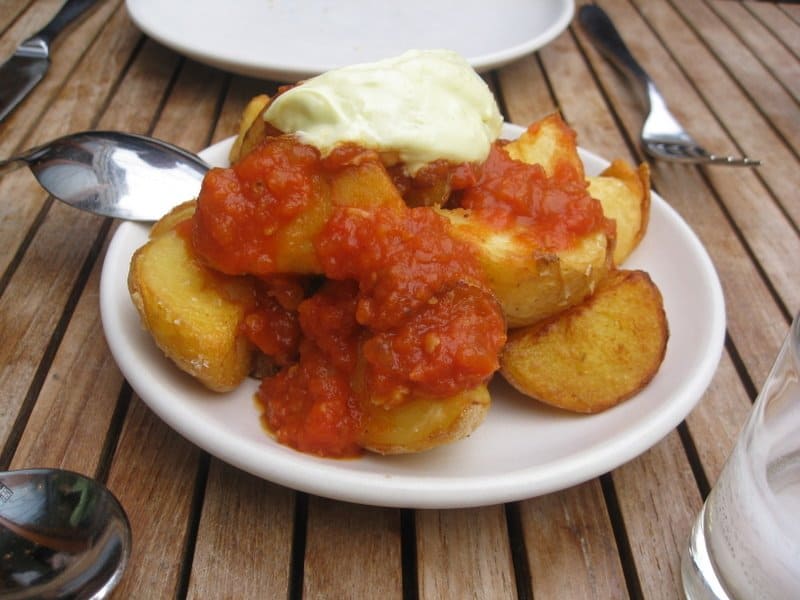 After finally making it down to the 'hood, and nabbing a table for two at the restaurant's glorious outdoor patio (filled with planted herbs and produce like squash blossoms, tomatoes and clementines), I knew that the answer was: absolutely not.
Contigo's focused wine list (catering to Portugal, Spain and Catalan-speaking regions) was the first thing to make an impression on me–beyond the mix of the restaurant's highly sleek and modern decor and open, home-style kitchen (with pots and pans hanging from above, loaves of freshly-baked bread and cheese lining the counter, and dainty flowers inside small vases). After hanging out by the wine 'counter' in the front for about 30 minutes with our carafe of spicy and smooth red wine, we were led through the main dining room towards a small table in the corner of a covered outdoor patio where, as I mentioned earlier, plants abounded.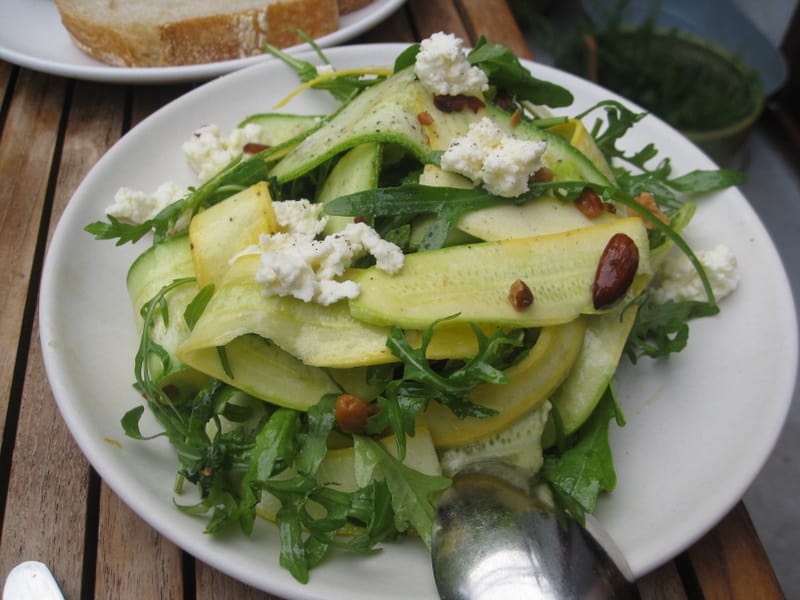 My eyes sort of didn't know what to focus on: the delectable cheeses and meats, the small plates? The larger entrees? Contigo's menu is broken down into small starters, tapas-style small plates, and then larger entrees. To get the best of both worlds, Matt and I decided to share an entree (thinly sliced steak and buttermilk-fried onions), 3 small plates (the patatas bravas–the classic, the zucchini salad–a refresher, and the calamari with little pimientos–for a seafood kick).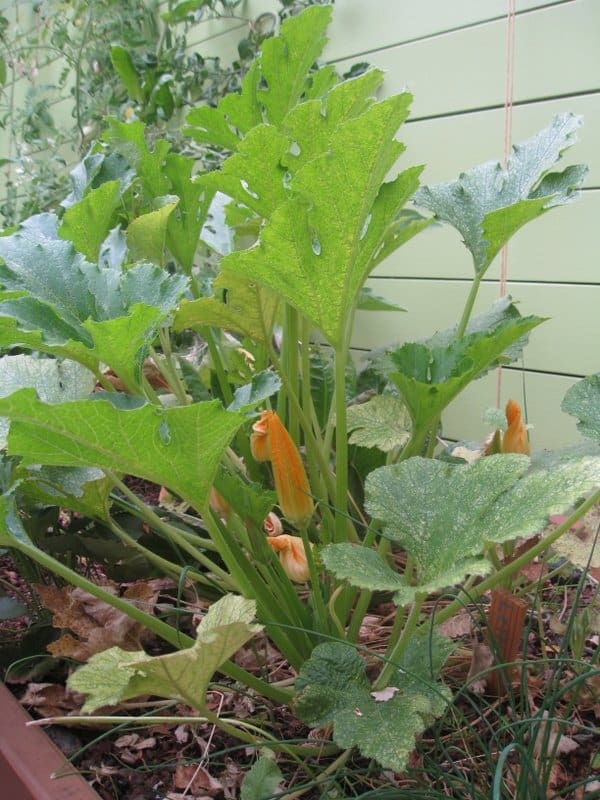 Our dishes were brought in succession–from lightest to heaviest. First, though, we ordered the housemade bread and olive oil, which we munched on as we waited on the rest of the dishes. The bread was quite good, as was the fruity and balanced olive oil. I kind of love it when restaurants serve bread as a menu item–it's guaranteed to be good, and you won't be wasting your calories on something that was shipped in from a warehouse 45 miles away (and probably baked earlier).
The consensus between us was that every single dish stood out. The potatoes, served with a delicious red sauce AND allioli were top notch. Crispy, smoky, spicy, creamy. Everything that this classic Spanish dish demands. It's on the menu of every Spanish/tapas place in the city, but Contigo just does it right. The calamari was a sizeable portion, grilled (like I like them). I loved the little green peppers which came tossed with a lemon as well. This dish was a seaside village. The zucchini salad, which consisted of thinly shaved ribbons of zucchini, arugula, toasted almonds and a light vinegar dressing was also (surprisingly) good. I tend to squirm at ordering a simple salad from a restaurant because my first thought is always: I can make this at home. But here at Contigo, it really was worth it. The last dish? Our steak was cooked perfectly, accented with bits of blue cheese. The fried onions weren't quite what I expected–they were literally fried onion rings–and I could hardly tell the batter was buttermilk. But, pedestrian as they were–I loved every bite.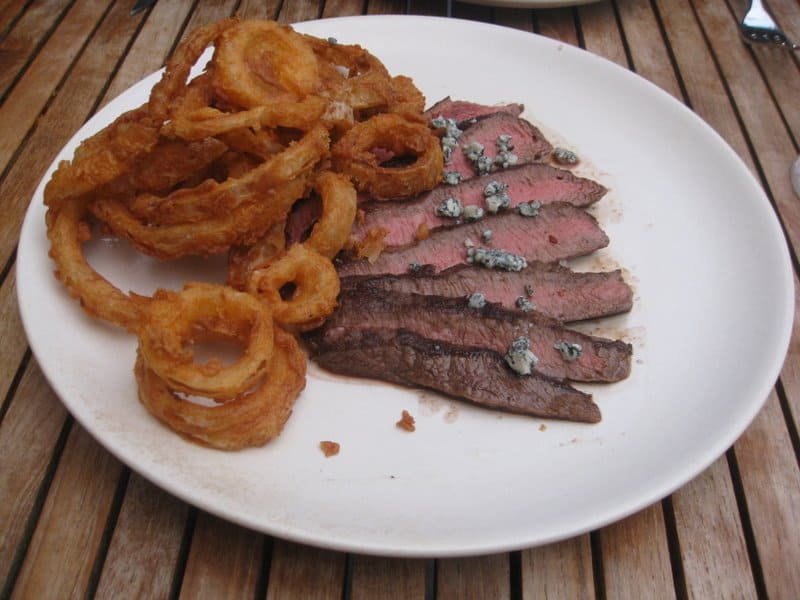 The finishing touch? The most rich hot chocolate I've had in several years now–thick as mud–accompanied by fresh-from-the-fryer, lick-your-fingers-of-that-sugar, churros. That's right. It all ended with a bang, and I'm still reeling to go back and sample more.
P.S. Stay tuned for the grand finale of our Summer Goodies meal on Monday.

Local Pairings: Evening Empire – The Ocean in Films EP / Build the Myth Backwards EP + Contigo
San Francisco four-piece Evening Empire have already managed to crank out a pair of excellent, well-written EPs in their relatively short career. Evening Empire consists of guitarist/singer Anders Carpenter, bass player Sean Ferry, drummer Daniel Hildebrand, and Beau Trincia on synth/organ/vocals. Their latest EP, The Ocean in Films, was just released on July 21 and features 4 tracks of catchy indie rock. Much of this short player, such as the second cut,"On Parade," consists of shimmery pop-rock reminiscent of early Elvis Costello blended with hints of Murmur-era R.E.M., as well as a small dose of Wolf Parade, owing to jangly guitar, steady percussion and well-harmonized backing vocals. The EP's third track, "Mining Your Assaults," is another standout: a slow-rolling rocker that fuzzes in at just the right moments. Head over to Musical Pairings @ eating/sf to read the rest of the review. –Matthew