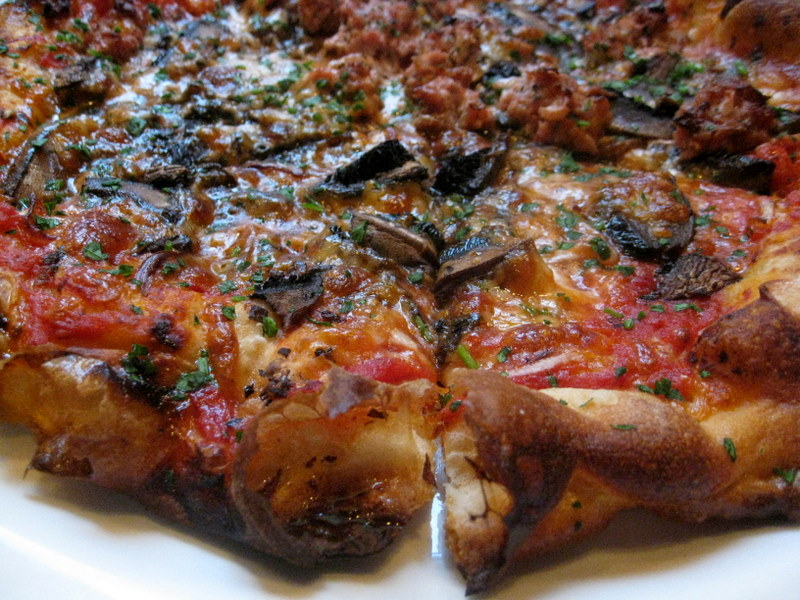 I will admit that I am a bit of a pizza snob. I haven't forgotten my elementary school love of Pizza Hut, or how much I craved Papa John's pizza with that wicked butter garlic sauce in college, but my tastes have most certainly shifted to something a bit more…shi shi? The fact is, living in Italy spoiled me. I lived for those rectangular slices of thin, light, chewy dough topped with ingredients ranging from eggplant to potatoes with rosemary, tuna to red peppers.
I still very much enjoy a trip to Little Star for some deep dish, but my true pizza love remains: thin crust, with a chewy middle, a crispy edge, and a very light topping that boarders on minimal. In San Francisco, I've found my perfect thin crust pizza at Delfina Pizzeria, where I can die and go to heaven with a buffalo mozzarella margherita tucked under my arm. If there is anything I believe you should never skimp on when it comes to pizza, it's the cheese. My perfect pizza is not a marshmallow. I'm not a greasy-slice-of-pie kinda girl. First of all, I refuse to call my pizza a 'pie.' There is apple pie and there is pot pie (which I frankly don't like), but there is not 'pizza pie.' Not in my little pizza world. Second, I sorta think that everything is better when it comes out of a brick oven. I've made plenty of pizza at home that's delicious, but I'm pretty sure it would be even better if I had a backyard with a brick oven. Calling TLC–hook me up, will you?
So, let's get down to business. I've raved about Delfina, Piccino, Beretta and Diavola in Geyserville, and I'm guessing you already have a sense for what makes me happy when it comes to pizza. Enter: Gialina. An adorable little pizzeria in the heart of Glen Park. I'd been meaning to go to this Neapolitan-style pizzeria for sometime, and when I sat down, I realized why it took me so long: there are babies. Everywhere. Glen Park is definitely a more family-oriented neighborhood than most in San Francisco, but it's oh-so-cute and inviting–as was Gialina (despite the incessant crying).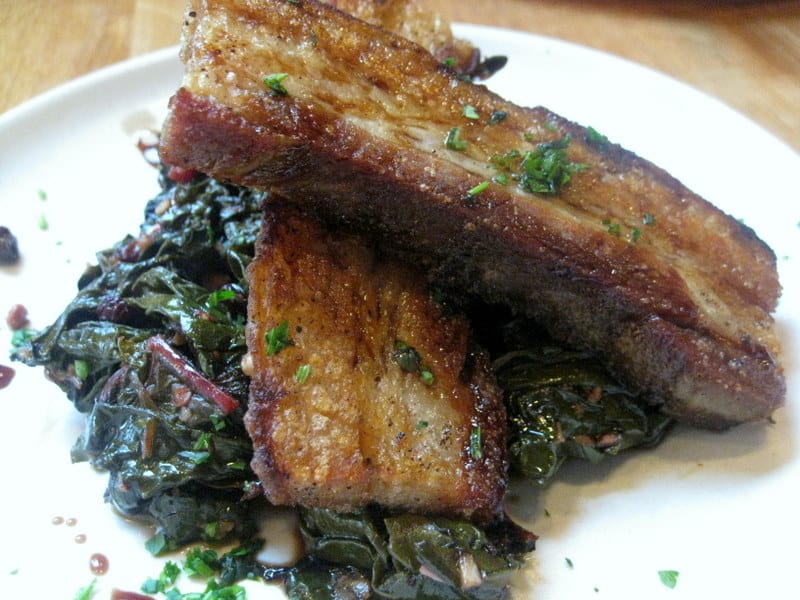 My friend Angela and I kicked things off with the pork belly and 'angry greens.' I don't eat pork belly often, but when I see it on the menu (and when I have an adventurous, carnivorous dining partner by my side), I'm pretty into it. The pork belly was some serious business: two hunk-of-slabs flash fried like nobody's business. The greens were just spicy enough to create a duality in my mouth: luxurious, fatty goodness and a little kick.
Most importantly, of course, we've got to talk about the pizza. Gialina has some interesting seasonal flavors that are really intriguing. We eyed the asparagus and talleggio pizza with an egg on top for several rounds of our patient waiter asking us if we'd decided. Ultimately, we decided that our first experience needed to be all about sticking with the most popular dish on menu, the Atomica Pizza. Loaded with mushrooms, tomato, mozzarella, red onion, spicy chillies and the addition of housemade sausage (per recommendation of our waiter)–it was definitely a pizza made for pleasing. The crust was slightly crisped and charred at the edges, but extremely chewy and delicious on the inside. The ratio of cheese to veggies was right up my alley, and the spicy sausage was really complementary.
Ultimately, what can I say? Gialina aims to please. And while my favorite SF pizza will probably still remain Delfina, mixing things up once in a while with a neighborhood I rarely make it out to and experimenting with Gialina's seasonal flavors is certainly an idea I am more than open to.

Local Pairings: Maus Haus and Gialina (San Francisco, CA)
On the track, "Reaction," from San Francisco's Maus Haus' debut album, the band asks, "can you hear the color, can you taste the sound?" Although the idea behind our Musical Pairings is do just that (compare the taste of various recipes to the sound of my favorite music), they have made me thankful that I don't normally draw comparisons between the restaurant Kasey reviews for our weekly Local Pairings and the band I'm reviewing. I've been obsessing over Maus Haus ever since I first put the needle to vinyl on my copy of Lark Marvels, but I can't yet imagine a recipe that would be an obvious match for their music.
When asked by the San Francisco Guardian to identify a film soundtrack that Maus Haus' music would best match, Maus Haus' Joshua Rampage suggested the following: "If Wes Anderson had written and directed 'Alien,' starring Bill Murray instead of Sigourney Weaver, and turned it into a social-political jag on how we've got to find a medium ground, how we've been eating too much and thinking too much (or not enough) and getting ready to become puddles of ourselves." Although one would rightfully suspect that Rampage's answer isn't meant entirely in earnest, it isn't as off the mark as you might imagine. Maus Haus' debut album, Lark Marvels, could easily be imagined as the soundtrack to a light-hearted Wes Anderson film about the "future" as imagined during the 1960s (think jetpacks, flying cars and mod furniture). Head over to Musical Pairings for the complete review. –Matthew
Lastly, are you local? Want to try to win tickets to the Great American Food and Music Fest? Musical Pairings is judging a contest hosted by MenuPages's SF Blog. Head over here for details.