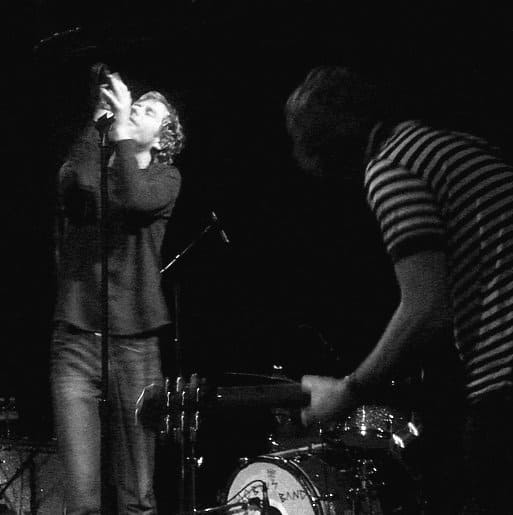 I frequently find myself itching to post something on Musical Pairings without a meal to pair it to. And some items I'd like to post do not work in the context of our traditional pairings for a myriad of other reasons (i.e. because it isn't from a proper album, because it is a single track, etc.). That is where these occasional "Single Serving" posts will come in. They are intended to provide me an opportunity to share some rare, out-of-print, or never-in-print recordings with you.
Nearly an entire gig of my iPod is filled with MP3s by the band the National. As far as I know, I own every 7″, EP, LP and DVD they have released. We even have a framed poster for the National hanging in our dining room. I've scoured YouTube and Hypem.com to listen to live recordings of new songs (for example, the track "Wake Up Your Saints" is going to be fantastic). It is safe to say I'm obsessed. So I thought I'd share a little of my obsession with our readers.
DISCLAIMER: If you aren't already familiar with the National these tracks (aside from maybe the live recordings) are NOT a good place to start. These tracks will probably appeal more to serious fans than to casual listeners. If "casual listener" sounds like you, I'd suggest starting with either Alligator or Boxer, which can be purchased from pretty much anywhere, but I recommend buying them on vinyl at Insound or digitally at iTunes. Everything sounds better on vinyl.
The National – live on the Black Sessions 2003: this live performance is notable because it is a rare high-quality performance on French radio recorded in 2003 (before the band released Alligator). The session included the still unreleased track "Pretty Forever;" pre-Alligator performances of "Lit Up" and "All the Wine;" and a fantastic live performance of the haunting "Cherry Tree." On the track "Murder Me Rachel," a frantic violin builds to a devastating crescendo as Berninger snarls "her pretty little ribbon / her pretty little name / are sewed in my skin / she'll never go away." You can download the whole session, or just the following highlights:
1. The National – Murder Me Rachel
2. The National – Pretty Forever
3. The National – Cherry Tree
+ The National – Black Sessions (2003)
The National – 4trk Recordings: The 4trk recordings are early demos by the National. They sound like it too. Still, these will appeal to some fans since the lyrics from some of these songs were later salvaged and used by the National for other songs. For example, the track "Halo Chagrin" has the lyrics, "don't look at me, I'm only breathing / don't look at me, I'm indiscreet" which later appears on the song "Cherry Tree" from the Cherry Tree E.P. The track "No Professionals" ends with the lines, "killers are calling on me / feathers are falling on my feet." These lines later appear on the song "Gospel" from Boxer. The track numbering suggests that there are at least 21 of these 4trk Recordings, but these are all I've ever been able to find. If you have the rest and need someone killed, we could probably work out a deal.
1. The National – Robyn de Sade
2. The National – No Professionals
3. The National – Halo Chagrin
Believer Magazine: the National contributed this track to a Believer magazine comp back in 2006. I don't believe this is still available anywhere else.
1. The National – Minor Star of Rome 下載美國人音樂
A Tribute to the Clash: The National contributed this track to a Clash tribute album. It is worth mentioning that lead singer Matt Berninger isn't the primary singer on this track.
1. The National – Clampdown нот американца загрузки
As an FYI – I collected all of these tracks from posts on the National's official forum. I believe I can assure our readers that these are "guilt free" downloads, as it is my belief that the band has consented to fans sharing these tracks. The National are my favorite band, and I certainly wouldn't share them if I believed doing so was against the bands wishes. For that matter – the same is true of all MP3s posted on this site. It is not our practice to share illegal MP3s.
By the way, if you have already purchased a copy of Alligator you can head over to Beggars Banquet, enter the UPC code, and download some excellent bonus tracks.
Enjoy!
P.S. Don't forget to head back to our home at http://www.eating-sf.com to see what we have cooking in the kitchen!