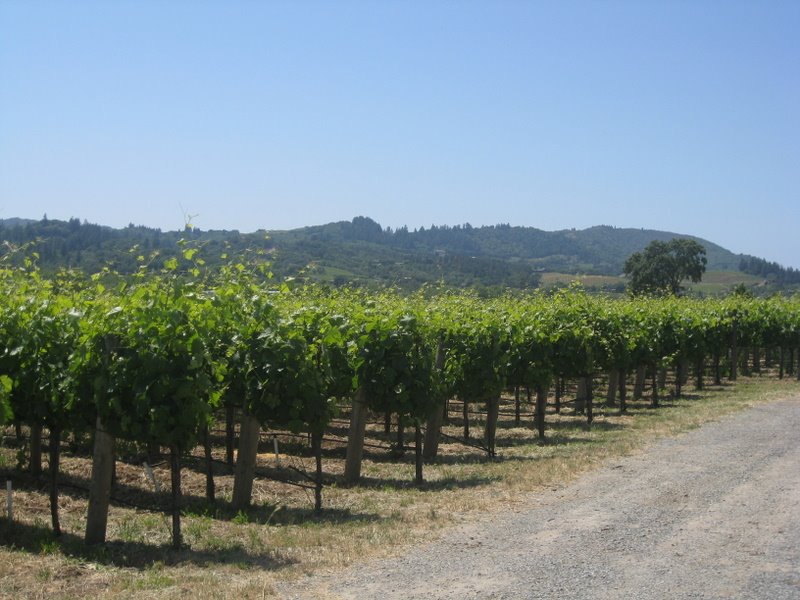 California wine country holds a special place in my heart–I've spent three birthdays there to date and will be getting married there in September. I've spent most of my wine country time in Napa and Sonoma, but this past weekend, we headed in a bit of a different direction: the adorable town of Healdsburg. It's pretty hard to keep surprises from me, so I had an idea about the bread making class we'd be taking, and the fact that Matt had reserved some bikes for us to ride through the vineyards and taste wines.
Healdsburg's wineries have a smaller, cozier feel than the surrounding 'big guys.' We sampled great whites at Quivera (we walked away with two bottles) and great reds at Bella and Unti (where we nabbed some Syrahs, Barbera and late harvest Zin). While San Francisco was thickly covered in fog, Healdsburg treated us to some gorgeous sunshine and perfect lounging and biking weather.
One thing Matt was able to keep from me was the location of my celebratory birthday dinner. Our destination was actually slightly outside of Healdsburg–a little town called Forestville. As we curved around the lush green fields and tree lined roads, I wondered where we could possibly be going. I have to admit, I did a little research to try to guess where we'd be heading, but I did not suspect the Farmhouse Inn and Restaurant. As we pulled up to the charming yellow house, I had a suspicion that it would be good.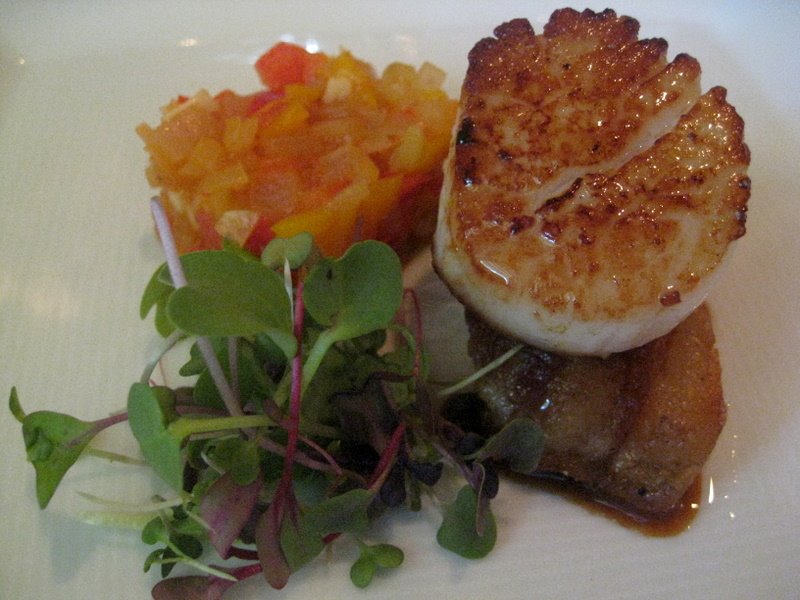 Like most of the restaurants I tend to favor, Farmhouse focuses on fresh ingredients–some of which come right from their gardens in the back. The Farmhouse restaurant menu changes daily, so don't expect to find the same dishes, though one–the Rabbit Rabbit Rabbit–is the chef's special.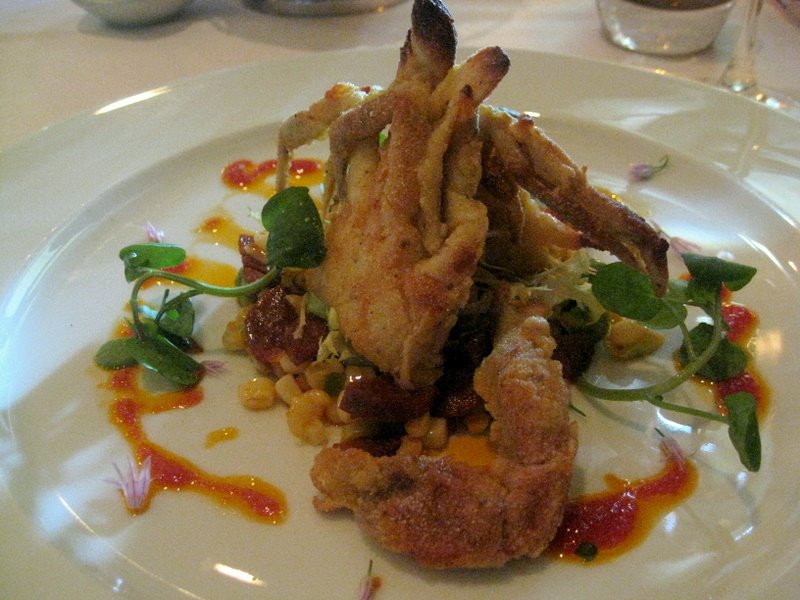 Feeling a bit like kids at a candy store (or rather like a little girl and boy inside an unfussy and welcoming colonial mansion), we ordered two appetizers: the softshell crab with chorizo and corn, as well as a seared scallop and pork belly. Both dishes were appropriately sized for each of us to have a few flavor-bursting bites. We oohed and ahhed at the presentation, not only of our dishes, but of the amuse-bouches that were brought to our table just prior: tiny cups of buttered corn soup rimmed with crushed popcorn. Every bite was so rich and luxurious, I really felt like I was celebrating.
For my main, I chose the halibut, served over a light broth with fava beans and peas. It was so light–the fish was almost pillowy, with just the perfect seared outside. The favas: pure spring. Matt, also unsurprisingly, did his research, too. He knew he'd be ordering the Rabbit times three: loin wrapped in bacon, roasted rack and confit of leg. The dish came served with a side of fingerling potatoes, carrots and green beans. A heartier dish, but still resonating the notes of spring.
For dessert, Matt ordered a creme brulee of sorts, though I was too intrigued with own dessert to even get a taste. I chose a flaky, light pastry, lined with custard and a strawberry-rhubarb compote, accompanied by some fresh strawberry ice cream and a little crumble for crunch. It's a rare occasion that I choose to order a non-chocolate dessert, but in this case I was oh so glad. The dish's three unique components provided satisfaction of every kind: cool refreshment from the ice cream, crunchy pleasure from the crumbs, luxurious, not-too sweet creaminess from the custand, and a lovely zing from the rhubarb compote.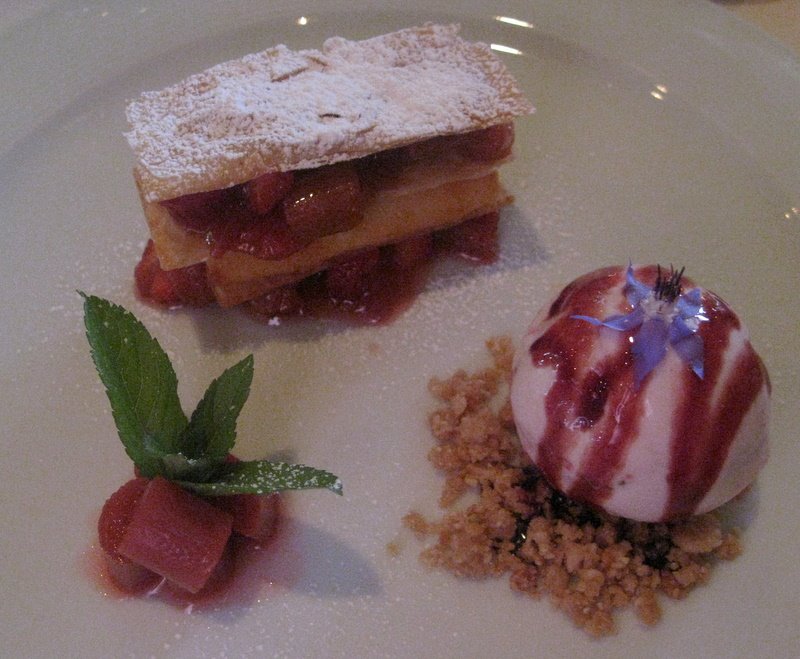 It's hardly a surprise that as someone that loves food, I'd probably sell my favorite clothes or my iPod in exchange for a super nice meal. Restaurants like Farmhouse deliver the full package: from the complete atmosphere to attentive sommaliers to beautiful presentation of dishes and unique, fresh ingredients. They're not just about the food that you eat–they're about making you feel like an eight year old at Disneyland. Even when you're 26.
Local Pairings: Geographer – Innocent Ghosts + Farmhouse Inn & Restaurant Forestville, CA
I needed the perfect restaurant for a last minute trip to the Healdsburg area for Kasey's birthday, and Farmhouse Inn & Restaurant was that perfect find. The food was simple, soothing and flavorful. The restaurant has been described by Bon Appetit magazine as a "clapboard house, tucked off a woodsy backroad." It should suffice to say it was extremely picturesque. And although I normally refrain from drawing comparisons between the local band and local restaurant paired in our "Local Pairings," in this instance, I can't restrain myself. This really feels like a natural pairing (if I do say so myself). San Francisco's Geographer make music that can be described as equally "pictureseque." In fact, rarely does a band's music sound so tailored for use in the dramatic scene in a movie. Rarely does a band sound so perfectly cinematic. But Geographer's Innocent Ghosts is just that: cinematic. Click over to Musical Pairings for the full review. –Matthew