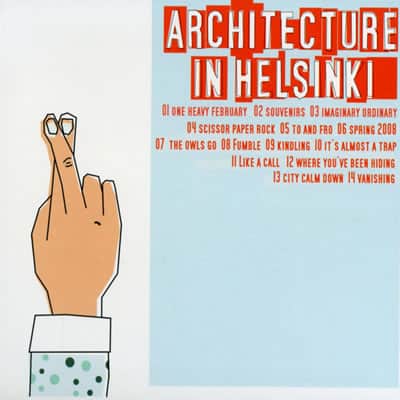 Architecture in Helsinki's debut album, Fingers Crossed, is a perfect pairing for Kasey's oatmeal cookies. Around the holidays every year, my dad makes oatmeal raisin cookies from an old family recipe. He has been doing it as long as I can remember, and it is probably for this reason that I associate oatmeal raisin cookies with childhood. Kasey's oatmeal cookies, although quite different from those my dad makes, make me feel happy, whimsical and carefree – kinda like being a kid again.
Likewise, Fingers Crossed is an excellent collection of playful, charming, whimsical and carefree songs that call to mind feelings from childhood (and it isn't solely due to the children on the track "The Owls Go"). But this is no children's album– "Kindling" is the album standout and features gorgeous lyrics like: "On my mattress / I've been drawing a line / where I'll shut my eyes / and where you should lie / if you should lie."
Follow this link to Unpiano to download copies of the tracks "Fumble" & "The Heart it Races."
-Matthew
Return to eating-sf.com in order to read the recipe and review pairing.