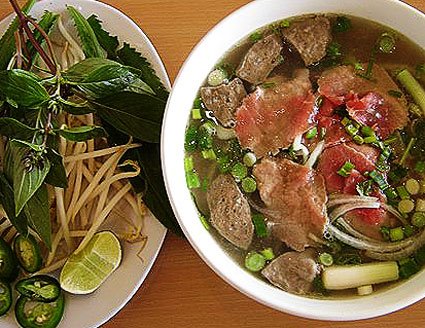 My new furniture finally arrived yesterday and I couldn't be more excited. A new bookcase (which is already 100% full), media console for our TV, and a very cool modern stand/bookcase for Matt's records. Of course, now our enormous coffee table looks entirely out of place. Funny how getting new furniture is an ongoing process and it leads you to reevaluate all of your old furniture. I can only imagine what it's like to actually own a house versus an apartment.
After spending a decent amount of time rearranging and organizing, we were exhausted. The past week was a busy one for both of us so as the fog entirely took over the neighborhood, we had a revelation: Pho.
One of my closest friends is half Vietnamese and was shocked to learn several years ago that despite my somewhat particular eating habits, I'm not afraid of tripe. I may not be picking it out of my bowl to eat it, but I'm happy to have it floating in a warming broth alongside bean sprouts, rice noodles, basil leaves and jalapeno slices.
Pho is my Asian equivalent to Spaghetti with Meatballs. There's not a lot involved (broth, meat, herbs, noodles, spices) and each bowl is wholly customizable. I love my Pho with hearty splashes of chili and plum sauce, tons of bean sprouts, several squirts of lemon or lime, and lots of cilantro and basil. I like to throw in a few jalapenos in for flavor–but am careful to eat around them. My first experience with Pho was a mix deal: thin slices of beef, beef balls and tripe. Since, I've simplified even more–I like to order the raw beef–it cooks almost instantly when the hot broth is poured over it and it light and satisfying. The hotter the broth (both in taste and temperature), the better. We hit up Yummy Yummy in the Inner Sunset. After a long wait (the place was packed elbow to elbow both at the tables and in the doorway), we got to catch the highlights of women's gymnastics on the flat screen TV as we devoured an order of fresh shrimp spring rolls. Yummy Yummy hits the spot when it comes to Pho. It's not fancy (neon lights, glasstop tables, tacky blue awning). But it sure is delicious.
Ruth would be proud, too. Our server acknowledged my order by giving me a thumbs up and a: "You know what to order!" He brought over the check with a friendly, "Thanks, Boss." Thank you!