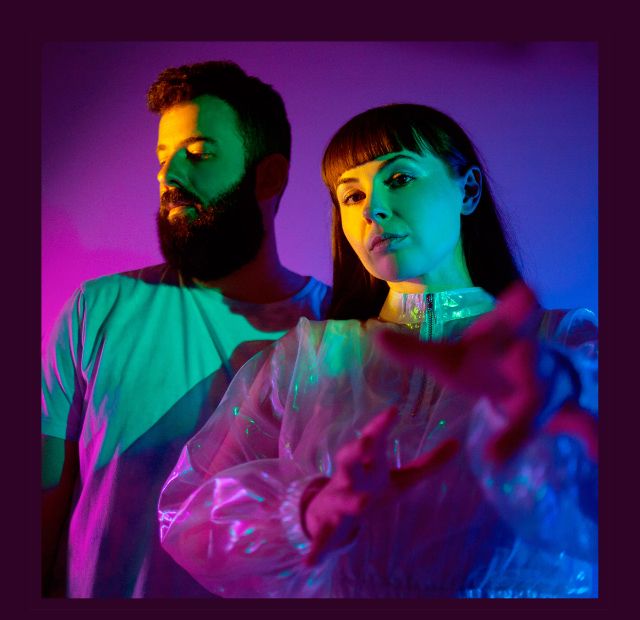 Brooklyn-based CLAVVS (pronounced "claws") are the sort of band people obsess over. Consisting of singer/songwriter Amber Renee and producer/engineer Graham Marsh, they pen the sort of lush, unstoppable jams that can easily get stuck in your head. They have an impressive pedigree too. Notably, Marsh is already a decorated producer and engineer with 16 Grammy nominations (including 4 wins) to his name courtesy of past work with CeeLo Green (for "F*ck You"), Gnarls Barkley, Bruno Mars, Ludacris, Nas, and others.
And, as you might expect, people are noticing. They've already been championed by NPR, Consequence of Sound, and KCRW – to name a few. Their latest EP, No Saviors, has been on heavy rotation in our home for months. Their tunes are just so sleek, beautifully textured, and irresistible.
We're proud to announce that this month's wax features three tracks from No Saviors made available for the first time ever on vinyl alongside a brand new, previously unreleased track.
The vinyl kicks off with the previously unreleased cut "Half Moon." It unfurls with bright, neon-lit tones bubbling up to the rafters amid a chilly, wide-open soundscape. Renee's smooth croon quickly enters the room shining a light on all of the vast spaces left dark in Marsh's slick, tantalizing production: "Half moon / I wonder about you . . . do you ever get so blue / the way that I do." It's an absolutely gorgeous tune and a personal favorite.
It's followed by the shuffling, clattering vibe "Slow Dive." This one is built from a deceptively straight-forward jam lit by echoing finger-snaps and clean hip hop beats. Here Renee is soulful and smoky, as she sings to a scorned lover, "Forget the words I said / remove them from your head / Erase the time we spent / and everything we did then."
The b-side fires off with the dreamy, swaying "Lay Back" – a highlight from the duo's excellent No Saviors EP. Indeed, the tune was previously selected as KCRW's "Tune of the Day" and it's easy to see why. Marsh's vibe on this one invokes a particularly worldly brand of hip hop that is as exotic as it is delicious. Renee's vocals float in swirling, whimsical flurries as she chants, "Lay back / lay back / lay back / till it's gone."
The collection then closes out with the cinematic and sumptuous "Echo." With more than a half million plays on Spotify, it's arguably the duo's biggest single to date and the appeal is immediately apparent. It's a simply radiant cut that you can easily get lost in.
We pressed the standard edition of this month's vinyl on coke bottle green vinyl alongside a deluxe edition on bone with double mint and black vinyl for subscribers who've been with us for a year. This release is available exclusively through our Pairings Box and Coffee & Vinyl subscription services.