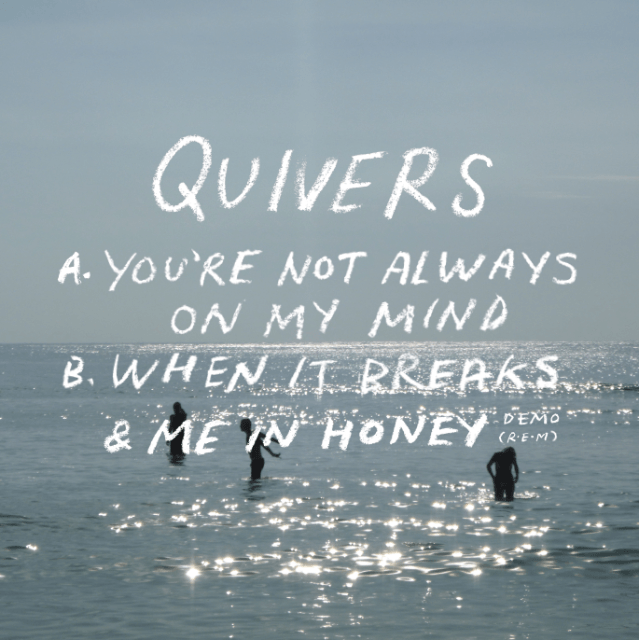 Melbourne-based rockers, Quivers, are one of those bands that, upon first listen, you just know are going to make a lot of people very excited. That was my experience anyways. Calling to mind the early work of bands like R.E.M. and, to a lesser extent, Sebadoh, frontman Sam Nicholson writes the sort of jangly indie pop jams that get caught in your head for days upon end. Joined by bandmates Michael Panton on lead guitar, Bella Quinlan on bass, and Holly Thomas on drums, the Aussie-based quartet have got it all.
And, I'm not alone in thinking so. Mere days after I discovered (and fell in love with) their single "You're Not Always On My Mind," I was greeted by the tune on John Richard's Morning Show on KEXP where he declared, "This is my favorite new song." Not long after that, it was unsurprisingly picked as KEXP's Song of the Day. Meanwhile, NPR listed them on their Austin 100 (the top new bands to perform at SXSW 2019) and included them on a list of the best new artists of 2018 – aptly describing Nicholson's song writing as "poignant and potent, but never dour."
For my part, I love what they're doing so much we decided to invite them to do a record for both the Pairings Box and our SOUNDS DELICIOUS series. So, yeah, we're honored not only to share their two latest singles on vinyl for the first time, but also a demo offering a sneak preview of their contribution to the SOUNDS DELICIOUS series which will follow later this year.
Our a-side kicks off the record with the sparkling and bright "You're Not Always On My Mind." Filled with delicious harmonies, bubbly guitar licks, and clever lyrics, if you don't like this song there might be something wrong with you. Here's what Nicholson had to say about the tune:
"I wanted to write a simple song, just four quick chords and a slow realization. I think I somehow stole the lyrical idea from Kylie Minogue's "Can't Get You Out Of My Head" – that a song might be trapped inside just one thought. And in that one thought there might be everything. That's how good that Kylie song is anyway."
The b-side begins with the glimmering and melodically upbeat "When It Breaks" which simply soars despite relatively pensive lyrics such as "We're no longer afraid of the night / with all the medicine we took we could glow in the dark." It's a verifiable beaut.
Finally, the collection closes out with the demo for their take on R.E.M.'s "Me In Honey" from their forthcoming full album cover of R.E.M.'s Out of Time for our SOUNDS DELICIOUS subscription series. And, yeah, it's good. Really good.
We hope you're as excited about this one as we are. We pressed the standard edition of this month's vinyl on sea blue vinyl alongside a deluxe edition on sea blue with splatter vinyl for subscribers who've been with us for a year. This release is available exclusively through our Pairings Box and Coffee & Vinyl subscription services.