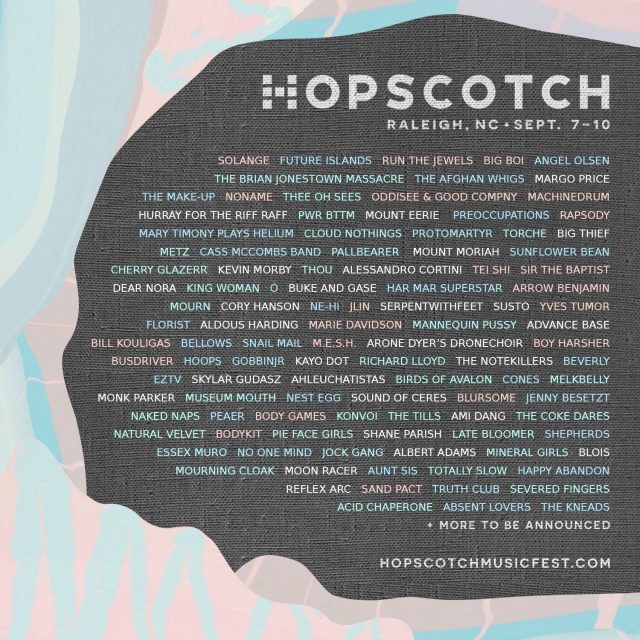 Every September the Hopscotch Music Festival takes over downtown Raleigh, North Carolina to showcase a diverse range of local, national and international artists. The eighth annual fest, which runs from September 7th through September 10th, continues that tradition with a lineup that caters to fans of all genres – R&B, hip-hop, indie rock, electronic, folk, punk, metal, experimental – there's something for everyone. This year is so stacked that organizers tacked on an extra day – spanning 4 instead of 3.
What sets Hopscotch apart is accessibility and the ability to jump from one venue to the next with relative ease, hence the name. The variety of participating spaces is unique as well. Last year a few highlights included performances from Wye Oak on the enormous City Plaza stage on Fayetteville Street in the heart of downtown, Lambchop in the beautiful Fletcher Opera Theater, Car Seat Headrest inside the Contemporary Art Museum and Julien Baker at Nash Hall – a music and event space housed within the modern architecture of Church on Morgan. The proximity and variety of venues, the thoughtful curation of artists, the array of local businesses, bars and restaurants, the southern charm and, of course the oft unbearable humidity, all work together to give festival goers an experience unlike any other. Here's a comprehensive guide to all things Hopscotch – including some can't miss shows, under the radar acts and best bets for food and libations in downtown Raleigh.
WHO TO SEE
THURSDAY SEPTEMBER 7
SKYLAR GUDASZ // City Plaza, 5:50 PM
Hailing from neighboring Durham, North Carolina, Skylar Gudasz kicks things off on Thursday with her unique brand of indie folk on the big stage at City Plaza. Expect to hear songs from last year's excellent Oleander – and hopefully some new tunes as well.
BIG THIEF // City Plaza, 7 PM *CAN'T MISS*
In June Big Thief released Capacity, their second album in as many years. It's a confident and powerful collection of highly personal musical vignettes made all the more striking thanks to the delicate strength of singer Adrianne Lenker's vocals. I recently caught the band at a small club in Montreal and they did not disappoint. I look forward to seeing them perform in the open air at City Plaza.
MOUNT EERIE // Fletcher Opera Theater, 10:30 PM *CAN'T MISS*
The Fletcher Opera Theater is the perfect venue choice for Phil Elverum's experimental indie folk project Mount Eerie. His latest release – A Crow Looked at Me – details Elverum's grief following the untimely passing of his partner, Geneviève Castrée Elverum. The brutal honesty of his storytelling and the sparse yet atmospheric instrumentals should translate well in a space that is no stranger to tragic musical performances.
CAYETANA // Slim's, 12 AM
When the clock strikes midnight make your way over to Slim's, one of Raleigh's most famous dives. Philly trio Cayetana will be bringing their infectious punk rock melodies to the stage, performing songs from their handful of great EPs, the excellent 2014 full-length Nervous Like Me and their latest LP New Kind of Normal. And you can even jump around while enjoying a Slim's Helles Lager brewed by local favorite Trophy Brewing Co. in honor of the Raleigh institution.
NONAME // Lincoln Theatre, 12:30 AM *CAN'T MISS*
Chicago native and Chance the Rapper associate Noname dropped one of the best mixtapes of last year with Telefone – full of poetic lyrics and soulful production. I already expect this performance to be a Hopscotch highlight and I have no doubt it will be a satisfying way to close out day one.
FRIDAY SEPTEMBER 8
RAPSODY // Red Hat Amphitheater, 6:30 PM
North Carolina native – and member of Jay Z's Roc Nation label – Rapsody hits the Red Hat stage in the early evening on Friday, bringing her distinct flow and potent rhymes to the festival.
RUN THE JEWELS // Red Hat Amphitheater, 8 PM *CAN'T MISS*
Easily one of the most hyped performances of Hopscotch, the brash, enthusiastic hip-hop duo of Killer Mike and El-P are sure to get Raleigh moving on Friday evening performing tracks from their three impressive albums as RTJ. Be prepared for a loud, fun set.
FUTURE ISLANDS // City Plaza, 9 PM *CAN'T MISS*
Fresh off the release of their latest LP The Far Field, Baltimore's Future Islands will take over the City Plaza stage on Friday night. Led by passionate and expressive frontman Sam Herring, the band's energetic live show has received a lot of attention throughout the years – making this one of the most anticipated sets at the fest.
PREOCCUPATIONS // Lincoln Theatre, 11:30 PM
The Canadian post-punk band Preoccupations – formerly known as Viet Cong – bring their intense, anxious sound to the Lincoln Theatre for a late night set that is sure to be as dark and moody as winter in Canada.
KAYTRANADA // The Basement, 12 AM *CAN'T MISS*
The Haitian born, Montreal raised electronic producer dropped his critically acclaimed, Polaris Prize winning debut 99.9% last year and has been ascending ever since. I think it's safe to assume his set will get the Hopscotch crowd moving when he hits the stage at The Basement at Raleigh Convention Center.
Ó // Neptunes Parlour, 12:30 AM
Ó, previously known as Eskimeaux, is a project led by Gabrielle Smith, who, over the years, has developed her sound into sincere bedroom pop, as evidenced on her last two releases on Double Double Whammy – O.K. and Year of the Rabbit EP. I caught Ó in Raleigh when she opened for Frankie Cosmos at Kings, a larger venue directly above Neptunes, and needless to say I am excited to catch the band in a more intimate setting.
SATURDAY SEPTEMBER 9
FLOCK OF DIMES // Red Hat Amphitheater, 3:15 PM
A recent transplant to Durham, Jenn Wasner – also known for her work in Wye Oak – returns to Hopscotch with her project Flock of Dimes and the strength of 2016's If You See Me, Say Yes. Here's hoping Wasner's bright, melodic numbers will be accompanied by some equally as bright mid-afternoon sunshine on the Red Hat stage.
SOLANGE // Red Hat Amphitheater, 9 PM *CAN'T MISS*
This isn't so much a recommendation as it is a requirement if you're attending this year's festival. Since releasing the masterful musical statement A Seat at the Table last year, Solange has become an international superstar and a festival mainstay. And with recent, unsettling tragedies in Charlottesville and her native Houston – Solange's lyrics, which explore themes of racial identity and historical disenfranchisement, will feel even more resonant and powerful during this very tense time.
ALDOUS HARDING // Nash Hall, 11 PM
Hailing from New Zealand, Aldous Harding will showcase her unique folk sound at Nash Hall, a venue perfectly suited for her shapeshifting, quietly intense tunes.
CENDE // Neptunes Parlour, 11:30 PM
With a runtime of just over 22 minutes – #1 Hit Single – the adrenaline-fueled debut from Cende flies by but leaves behind some catchy power-pop melodies that are sure to stick with you long after the record ends. Be sure to catch them at Neptunes for what is sure to be a spirited set.
KEVIN MORBY // Kings, 12 AM
After Cende finishes up, you can head upstairs to catch Kevin Morby at Kings. Morby released his fourth album City Music in June – a collection of songs that romanticizes and explores the complexities of urban life while continuing to reveal the singer-songwriter's impressive abilities with songcraft.
MANNEQUIN PUSSY // Slim's, 12:30 AM *CAN'T MISS*
Make your way over to Slim's to close out Saturday with a performance from Philly punks Mannequin Pussy. If you're starting to fade after a long day of venue hopping, they are sure to wake you up as they rip through songs from their 2016 album Romantic – a short, sweet and merciless combination of punk, shoegaze and metal driven by Marisa Dabice's sharp vocal urgency.
SUNDAY SEPTEMBER 10
CLOUD NOTHINGS // Red Hat Amphitheater, 3 PM
At the beginning of 2017, Cloud Nothings released their fourth album Life Without Sound – a hugely enjoyable indie rock record full of memorable pop melodies. It continues to build on the sound they've been developing over the years and illustrates why they're one of the most consistent bands around. Frontman Dylan Baldi and co. should have no trouble making noise on the big Red Hat Amphitheater stage.
MOUNT MORIAH // Red Hat Amphitheater, 5:20 PM *CAN'T MISS*
Hailing from Durham – the great musical hub located just northwest of Raleigh – Mount Moriah bring their hopeful blend of folk, Americana, country and indie rock to the Red Hat Amphitheater on the final day of Hopscotch. Having seen the band perform several times, their live show comes highly recommended.
ANGEL OLSEN // Red Hat Amphitheater, 8 PM *CAN'T MISS*
What better way to close out the 2017 Hopscotch Music Festival than with North Carolina resident (she lives in Asheville) and one of the biggest names in indie rock, Angel Olsen. With not one but two classics now under her belt – 2014's Burn Your Fire For No Witness and 2016's My Woman – Olsen has no shortage of great material at her disposal. And not only is she a great performer but her stage banter is top notch as well.
WHERE TO EAT / DRINK
MOFU SHOPPE // 321 S Blount Street
Recently named one of the hottest new restaurants in Raleigh, Durham and Chapel Hill by eater.com, MOFU Shoppe is the brainchild of Sophia Woo and Sunny Lin – the team behind the award winning Pho Nomenal Dumplings food truck – and features Asian-inspired eats with a southern twist and unique cocktails.
BREWERY BHAVANA // 218 S Blount Street
One of the most beautiful spaces in Raleigh – Brewery Bhavana is a concept dim sum restaurant, brewery, bookstore and flower shop – a wildly ambitious endeavour that actually delivers. But you don't have to take my word for it, Bon Appétit magazine just named it one of the best new restaurants in the country.
TROPHY BREWING CO. // Multiple Locations
There is no shortage of great, local beer in the region but Trophy has become one of the leaders of the craft movement in Raleigh. Check out one or all of their locations, Trophy Brewing + Pizza features some of the city's finest pies, Trophy Taproom is the production facility but there's always a great food truck parked out front and Trophy Tap & Table has an extensive food menu to accompany a large variety of well-crafted brews.
POOLE'S // 426 S McDowell Street
The first and most popular of James Beard award winner Ashley Christensen's downtown eateries offers seasonal fare (and a mac & cheese dish that is to die for) and is a cozy space that takes you back in time with its retro American diner aesthetic.
HAPPY + HALE // 443 Fayetteville Street
Located right beside the City Plaza stage is Happy + Hale, a healthy food choice for those who want some greens, smoothies and cold pressed juices. It's a good place to recover from long days at the festival.
JUBALA COFFEE // 2100 Hillsborough Street
You'll have to travel a little outside of the downtown core for Raleigh's best coffee and biscuits. Jubala is located across from the campus at North Carolina State University and uses Counter Culture beans – who are based in Durham.
BREW // 111 Seaboard Avenue Suite 116
If you're looking for a comfortable spot to get some work done and enjoy a cold brew or pint, Brew is the place to be. And not only is the quality great but this might also be the friendliest staff in Raleigh.
GARLAND // 14 W Martin Street
Located directly beside two of the hottest venues at Hopscotch – Kings and Neptunes – Garland features a menu full of delectable Indian and Pan-Asian cuisine co-owned by James Beard semi-finalist Cheetie Kumar, who also helps run those aforementioned venues.
BOULTED BREAD // 614 W South Street
If it's sweets or carbs you're looking for, be sure to check out Boulted Bread – the finest bakery in Raleigh. With daily offerings that include croissants, cookies and artisan breads, you truly can't go wrong here.
TASTY BEVERAGE CO. // 327 W Davie Street
Located in the hip Warehouse District, Tasty Beverage Co. features the most extensive selection of beer in the area. And while you're scoping out the bottles be sure to grab a pint as they've usually got some hard to find varieties.
THE FICTION KITCHEN // 428 S Dawson Street
Featuring a menu that is 100% vegetarian, The Fiction Kitchen started as kind of an anomaly in a region that prides itself on BBQ. But the food here is good enough to convince anybody that you don't need meat to create a delicious meal.
So there you have it – lots of recommendations to keep you occupied throughout the festival. Additionally, Hopscotch features a TON of great (free) day parties, which are listed here – so you really have no excuse to sleep. I honestly believe that this festival is incredibly unique and underappreciated – as somebody who doesn't really seek out these types of multi-day events and is perturbed by the idea of that some have become avenues for greedy, money-grubbing grifters, Hopscotch is – and remains – all about the music. It's a festival for the fans, and it's refreshing for me, a person who finds great joy in experiencing live music. And if you're not able to make it to Raleigh this year, keep it in mind for 2018, I promise you won't regret it. I'll be back after the fest with a recap but until then, Happy Hopscotchin'!