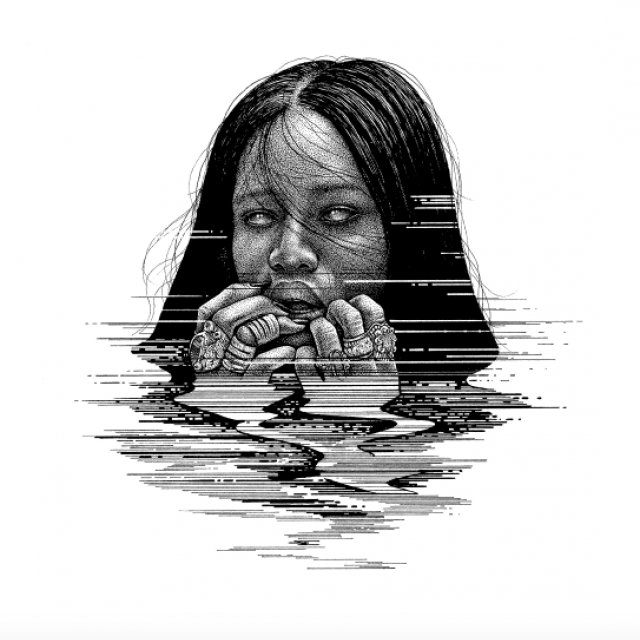 This month's vinyl is a particularly special release. Indeed, we're very, very proud to feature four beautiful cuts from Nigerian-born, New York City-based producer/vocalist Oyinda – for the first time ever on vinyl.
If you're not already familiar with her, get ready to be very impressed. Gradually building a name for herself on the strength of a pair of hot-as-fire EPs, there is already a sense within the music industry that everyone is talking about her.
For example, Rolling Stone called her "R&B's best kept secret." Similarly, Noisey dubbed her "R&B's most exciting new act." In an article simply gushing with praise, Vogue Magazine described her sound as "a beautifully minimal brand of brooding pop music." She's even already played one of the main stages at Lollapalooza. In other words: Oyinda is running the game.
The a-side kicks off with a chilly, minimal synth-capped vibe that swells with slow burning energy. Titled "Out of Touch" it is bubbling with bright, echoing vocal cuts that swirl in chopped up and distorted tones as Oyinda croons, "place your hands upon me so I know just how you feel whenever I am low." It's one of those rare cuts that can simultaneously call to mind both Portishead and Aaliyah.
Next up is the darkly-sexy, slow-churning single "Flatline." It's an exquisite groove that deals in a surprisingly effective interplay between death and sex amid deeply rumbling bass and Oyinda's sensual pleas, "A little pressure, a little harder, could you hurry? It's an emergency. A little pressure, a little harder, could you treat me with some urgency?"
The b-side boasts the tense and brooding "Never Enough." Arguably her sexiest song to date, it is absolutely mesmerizing, "Trace the curves of your lips, lick 'em like you've had a taste . . . Follow the curves of my hips, 'cause you're the kind that craves a chase." It'll give you shivers.
The collection closes out with a bright and clean remix of "Never Enough" by the critically acclaimed producer Empress Of (a.k.a. Lorely Rodriguez). On her mix of the track, Rodriguez swaps out the tension of the original for a more upbeat and danceable atmosphere. It offers a lovely contrast to the original and proves a nice closer for the collection.
We've pressed 325 standard copies on milky clear vinyl alongside a special edition of 175 copies on milky clear with heavy black splatter vinyl exclusively for gold club members. To get one you just have to subscribe to either the Pairings Box or our coffee and vinyl subscription service.