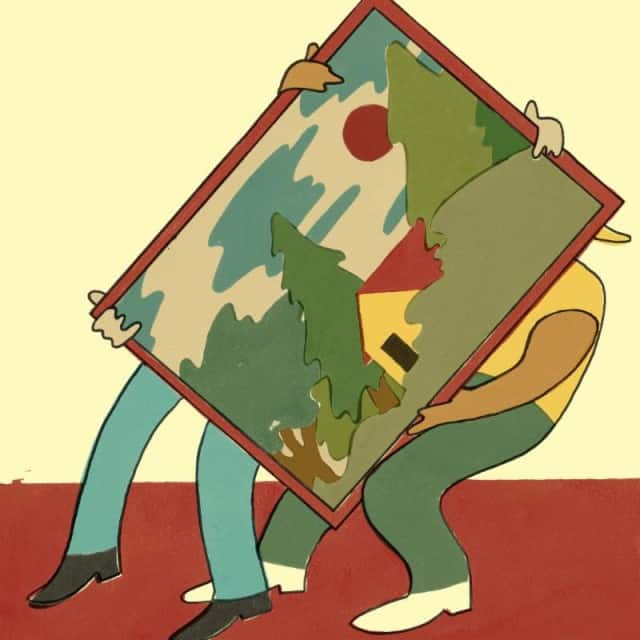 YOU GUYS! WOODS! NEW SONG! NEW RARE VINYL!
<pant, pant>
I just heard the news and I ran all the way here to share it. I just need to take a second to catch my breath. And, to be clear, by "ran all the way here" I mean I switched tabs on my browser. And by "catch my breath" I mean I don't really know what I want to write about this one and I'm sitting in a coffee shop staring blankly at a computer screen.
Okay, let's keep this simple. There's this band called Woods. They make music. I guess that was probably obvious since I said they were a band. Anyway, we think their music is pretty special. Like we sorta love their music. And they released a new song today. And we think it's also pretty special. It'll be on a vinyl record with a song from another band called Ultimate Painting. They'll be touring together and you can get the vinyl during the tour.
See? That was pretty informative. Why did I spend so much time over thinking it? Good job, me.
Yes, I suppose I could also write a few more details about the 7″ in my own words but instead I'm just going to copy and paste from the press release. Don't judge unless you also have two teething 6-month old babies keeping you up all damn night. My god, I miss sleep so much.
Press release:
"Woods and Ultimate Painting team up for a limited edition 7-inch to celebrate their 2016 tour which launches tomorrow in Ithaca, NY. A co-release from Woodsist and Trouble In Mind Records, the single is limited to 1,000 copies and features a brand new, exclusive unreleased track from each band with excellent cover art from Andrew Savage of Parquet Courts."
Want to pick up a copy of that vinyl? Tour dates below.
04/21 – Ithaca, NY – The Haunt
04/22 – Toronto, ON – The Garrison
04/23 – Chicago, IL – Lincoln Hall *
04/25 – Madison, WI – High Noon Saloon *
04/26 – St. Paul, MN – Turf Club *
04/27 – Iowa City, IA – Gabe's *
04/28 – Kansas City, MO – The Riot Room *
04/30 – Austin, TX – Levitation Festival
05/02 – Nashville, TN – Third Man Records
05/03 – Atlanta, GA – Masquerade – Purgatory Room *
05/04 – Asheville, NC – Mothlight *
05/05 – Washington, DC – Rock & Roll Hotel *
05/06 – Philadelphia, PA – Boot and Saddle *
05/07 – New York, NY – Music Hall of Williamsburg *
07/14 – Cleveland, OH – Mahall's
07/15 – Detroit, MI – El Club
07/17 – Chicago, IL – Pitchfork Music Festival
07/18 – Omaha, NE – Slowdown
07/19 – Denver, CO – Marquis Theatre
07/22 – Portland, OR – Mississippi Studios
07/23 – Seattle, WA – Capital Hill Block Party
07/26-27 – Bug Sur, CA – Loma Vista Gardens (Woodsist Festival) #
07/30 – Los Angeles, CA – The Echoplex
07/31 – Phoenix, AZ – Crescent Ballroom
08/05 – Louisville, KY – Zanzabar
08/06 – Baltimore, MD – Ottobar
* = w/ Ultimate Painting
# = w/ White Fence, Jessica Pratt, Kevin Morby, Alex Bleeker, Ultimate Painting, Gun Outfit, Cian Nugent & more!