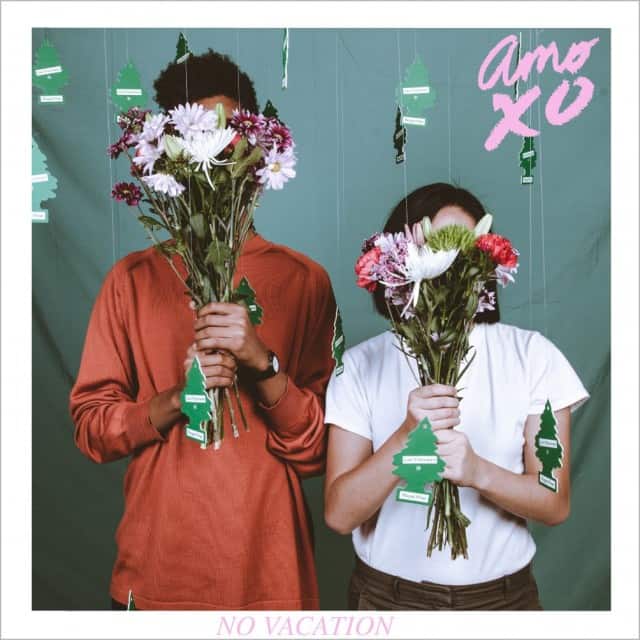 I'm slightly embarrassed to admit that I discovered San Francisco's No Vacation, who literally live in the same neighborhood as Kasey and me, thanks to a submission from our excellent Toronto-based music contributor Laura Stanley. But, although I'd always love to get the scoop on a band from my own backyard, I'll happily settle with just having them on my radar at all as they've proven to be one of my favorite discoveries this Summer.
Having started this past February as the dorm-room recording project of Sabrina Mai and Basil Saleh, No Vacation have quickly evolved into a full fledged five-piece with a pair of swaying, melodically warm EPs under their belt – both well suited to brightening up even the foggiest day. And, as is often the case with promising new artists, music lovers are starting to take notice.
For example, our friends at London-based Crack In The Road described them as "how The XX might have sounded if they were from the beaches of San Francisco and not dreary London." Similarly, Converse Music was enthusiastic in stating that the Bay Area band "bring a little rain to their indie-pop beach picnic, mixing carefree holiday vibes with cloudy tinges of homesick regret." We're very excited to introduce you to them by dishing up their entire eight-track debut Amo XO EP on this month's Pairings Box vinyl.
The a-side opens with a wash of diffused light and a sparkling melody on instrumental opener "Late Morning Brekkie" before transitioning into the light-hearted and springy ditty "Laundry Day" (a personal favorite). It's a short and sweet tune with refreshingly straight-forward lyrics about not wanting to do the laundry on a Sunday afternoon, "I don't want to get out of bed / but all of these clothes keep piling up / and I've got wash, dry, and fold them up." In a time when many bands' lyrics are both pretentious and nearly indecipherable, this level of straight-forwardness might as well be considered punk rock.
It's followed up with the infectious, over-before-you-know-it jam "Beach Bummer" that's built out around jangly guitar lines, bouncing bass riffs, and Mai and Saleh's co-ed vocals. Far more fun than the title would suggest, it's already proven to be an early fan favorite and a standout on the EP. Next up, the a-side wraps up with the plaintive, murmuring instrumental "Café Beat."
Meanwhile, the record's flip-side opens on a pair of solid vibes. First there is the warmly wistful, yet comfortingly upbeat "August." It's followed by the swaying yet heartbroken standout "Lovefool" (another personal favorite). Finally, the collection closes out with the simple and mostly-unadorned acoustic guitar-led "Bedroom Melody" and the swirling closer "Pillowcase." It's a fun, lovely introduction to the rising Bay Area group and we hope you enjoy it as much as we do!
We've pressed 325 standard copies on baby pink vinyl alongside a special edition of 175 copies on baby pink and doublemint a-side/b-side vinyl exclusively for gold club members. As usual, these will sell out before long. It's exclusively available in the Pairings Box recipes and vinyl subscription service or our coffee and vinyl subscription service.